Moment
Moment makes a botanical water drink using natural and adaptogenic ingredients and free of caffeine, added sugars, and artificial flavors.
drinkmoment.com
Average rating from 28 users
79%Recommend to a friend
Moment Reviews
All

28
variety pack

3
blueberry ginger

2
spiced mango

2
plum ginseng

2
strawberry chamomille

1
lemon turmeric

1
cherry hibiscus

1
lychee mint

1
blood orange

1
I tried the spicy mango still water … I felt like it definitely had a calming effects. I would like to try to a sparkly water flavor was an amazing in my opinion.
---
Love these flavors and having a drink that's not carbonated
---
---
Botanical water drink is a great description. I wouldn't consider this a non alcoholic cocktail replacement. But drinks are good.
---
What is Thingtesting?
Thingtesting is an unbiased place to research and review internet-born brands — because honest reviews help us all shop better. Learn more.
---
Received a free product from Moment
I didn't try the sparkling one but I think the other ones are great Mixtures. I would get them again if I saw them in the stores.
---
I bought this product since I do not like to drink alcohol anymore and it was listed as a great alternative to alcohol, but sadly the cherry Chaga tasted odd and earthy, so far it's not made me relaxed. I am hoping to notice a difference after drinking the whole can after 30 mins or so. Otherwise it will be a bust and not worth $40 🙄
---
I had high hopes for Moment, but unfortunately was left disappointed because it didn't love to expectations -- the taste was mediocre, the carbonation was weak, and most disappointing, I didn't 'feel' anything from them. Given Moment's higher price point, I'll just take a LaCroix instead...
---
I am quite pleased the way I felt after drinking this product daily for 12 days. I just felt more calmer and relaxed. I think the value for the money is great. The packaging of the product is super cute. I look forward to drinking this daily for 30 days straight and update this review with another review. Overall, it's a WONDERFUL product. I enjoy drinking mine in the afternoon so by the time I get home from work, I feel relaxed.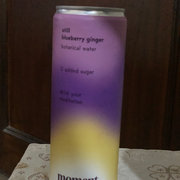 ---
I absolutely love these drinks. They are so refreshing, beautifully flavoured and lovely to look at too. I was unsure about whether the added ingredients actually did anything, but I found myself calmer and more vibrant after drinking these. It's like the feeling you have after and gentle yoga class - blissful. I'll definitely be stocking up on these regularly going forward!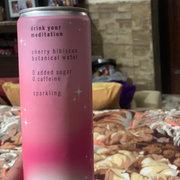 ---
Really enjoy this beverage! My daughter and husband tried them as well and loved them. So far we've had the Cherry Hibiscus, Plum Ginseng, and Lychee Mint sparkling. Cherry Hibiscus is my favorite of the 3 (I can't have the ginseng so I didn't try it, but my family loved it). Mint isn't my favorite but I did enjoy it - felt like having a cocktail without the guilt. I just ordered a pack with the still waters to try next! Update - received the stills and love them all. The blood orange may be my favorite.
variety pack
blueberry ginger
spiced mango
plum ginseng
cherry hibiscus
lychee mint
blood orange
---
I love Moment, it's the best brand of botanical waters in the market. The flavors are just perfect and so different than the other beverages I have tried so far. The adaptogens really work if you're consistent and try Moment daily. You just feel so relaxed and in the zone, these waters are totally worthy!
variety pack
blueberry ginger
spiced mango
plum ginseng
strawberry chamomille
lemon turmeric
---