Average rating from 2 users
I love my pair of Meller sunglasses. They are comfortable, stylish, and come at great price point. They are quality enough to last for years but cheap enough that I wouldn't feel devastated if something happened to them. I plan on buying another pair and using it as an opportunity to get more adventures with my eyewear because their products don't break the bank.
Feedback
No notes, keep it up.
---
Very nice variety of glasses. I like that it comes in a box but also has a soft cover. Fits very nicely around my head and got the 2 for 1 deal so made it pretty afordable.
Feedback
It was hard to figure out what glasses would fit my face but it worked out perfectly in the end. My order was sorted wrong so took a little bit longer but still faster than I expected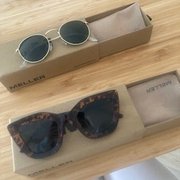 ---