Average rating from 22 users
89%Recommend to a friend
Marc Jacobs Reviews
All

22
Snapshot bag

4
The Totebag large

4
flowers perfume

1
Every product I have purchased from Marc Jacobs feels reasonably priced & the quality is great. I love it when they do collabs with people/other brands. It feels more unique, custom & limited edition.
---
I love the Marc Jacobs tote bag in the small (formerly Mini) and medium sizes. The terry cloth one is super fun in the summer because the material is comfortable in your hand in the heat and doesn't cause palm sweating. Of course, I would be remiss to not mention that Daisy by Marc Jacobs is the best smelling perfume (IMO) on the planet.
---
---
Was obsessed with daisy and chloe a few years ago! Had a dress by them but was disappointed in the fabric. Didn't expect polyester for a brand like marc jacobs.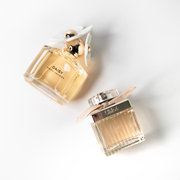 ---
What is Thingtesting?
Thingtesting is an unbiased place to research and review internet-born brands — because honest reviews help us all shop better. Learn more.
---
I have the canvas Tote Bag from Marc Jacobs, and it's extremely heavy duty and I use it for everything. Great for college or for travelling!
---
I loved the flowers perfume as a young woman. Still reminds me of my twenties.
---
I have bought a tote bag from Marc Jacobs and I've had a great experience with it. If you want to use it for school or work, you may check out from medium size because it could fit your laptop.
---
I love Marc Jacobs, I feel like the brand is so chic and classy. I especially love their perfumes, my favorite is Daisy Dream. I also think their purses are high quality, the ones I've bought have lasted years. Overall, I love this brand, but obviously their products can be a bit pricey.
---
I bought the neon, pvc bag for summer and vacays! It's so cute and perfect! I'm on the water a lot boating to a sun I love that it's waterproof! I get so many compliments. I love all Marc Jacobs
Snapshot bag
The Totebag large
---
I would definitely buy every bag and makeup if I was able to afford it.
---