Average rating from 8 users
100%Recommend to a friend
Love ManiMe! The custom fit is spot on and they let you make custom adjustments to make sure it's perfect for you. After 2 tries I had my perfect fit and used them on my wedding day! It was perfect and low-stress. Store-bought press-on nails are always too big for me. I always chip and mess up my nails as soon as I paint them. This was a great alternative!
---
I was very surprised by the quality + durability of these gel stick-on nails. I put these on within 10 minutes and used the base coat you can purchase from the website. The application was quick and easy. When you purchase the product, you submit a scan of your nails so the stickers are cut to pretty much perfectly fit your nails! The only downside of the process is you have to file off the excess of the sticker which can leave the edge of your nail a bit rigid if you do not file it off enough. Other than that, these nails never chipped and give the glossy finish of a gel nail. I showered many times with them before they started to lift and the removal was easy - it's just like peeling off a very sticky sticker (but it leaves your nails damage-free unlike gel!).
Feedback
I would have liked a bit more control over the color selection/pattern mixing on the site. They sell some individual colors but others are in a 2-pack where I wish I could make my own 2-pack pair. Other than that, two files could be useful since after finishing one hand the file was pretty dull when filing off the stickers on my other hand.
---
---
I love ManiMe! I've been an avid customer for over a year and really enjoy their manis. I actually applied a fresh mani on the train this morning in less than 10 minutes and it looks great. Their customer service is top-notch. I am someone who often picks at their nail polish and always end up ruining my painted nails, so these stickers have been an amazing switch for me as they don't chip. A mani typically lasts 1.5-2 weeks for me, and sometimes even longer.
---
What is Thingtesting?
Thingtesting is an unbiased place to research and review internet-born brands — because honest reviews help us all shop better. Learn more.
---
If I could give 100 stars, I would. I love love love ManiMe. As I type this, I have ManiMe nails on. Not only is it the coolest product, it's long lasting and easy to use. They last foreverrrr and I get so many compliments on them. Their customer service is immensely helpful. ManiMe has sales and launches all of the time and their newest versions are a thinner gel than they were before, making them easier to apply and less likely to fall off. I could literally talk about this company all day, but if you're thinking about trying, DO IT!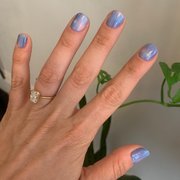 ---
I loved the ease/convenience of product application and the durability of the ManiMe gel strips. I really put these to the test through daily wear, plus deep cleaning my bath/kitchen and I was able to get a solid 10-days of wear before I began to see the slightest indication of product failure! The awesome customer-service is worth a mention too! The first set of gel strips that I ordered were ok, but I felt as though the fit was a tad off. Sent a text to "resize" and no questions were asked, I immediately received a guide with tips/tricks to help improve my fit and a credit was placed on my account. Product packaging was super cute too. Wasn't wasteful and large. I am on my fourth order of ManiMe gel strips...love them!
Feedback
I am not in love with the functionality of the website or the technical/backend of Manimi.co Example: The text message invite I received with the link to 3D scan my nails was sent to me over 3 times per order. I felt that I had to go back through the steps and re-do the scans each time b/c there was no messaging indicating that my scans were successfully received, etc. The customization/ordering process should be as flawless as the product experience :) Would love to see more frequent designer launches!
---
Nice designs, very close to the actual size and format of my nails
Feedback
I feel the nails get weak from the glue
---
my holy grail product. love supporting a founder who's korean, and manime is so convenient to my daily lifestyle. When I want time for self-care, you'll find me doing my manime manicure and watching a TV show. It's hard at first, but easy once you get the hang of it. Stays on for 2+ weeks too!!! My friends who've tried it have loved it, and funny enough, I'm currently typing this with a pair of manimes on right now! Def check it out!!!!
---
I liked that you could customize the size and style. I get manicures monthly and my main requirement is that the manicure lasts long and doesn't chip.
Feedback
The only issue I had was lifting by the end of the nail and the sides after about a week. Also, if you leave it on more that a week to 10 days, the nail grows out the things start to get pulled by the cuticle. Like hair and clothes.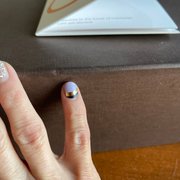 ---