Longchamp
Longchamp makes collections of luxury French handbags, leather goods, luggage, and more.
www.longchamp.com
Average rating from 12 users
100%Recommend to a friend
My ride or die bag. I bought my first Le Pliage in 2016 and I've never ever looked back. I've had the bag in various colours and they have stood the test of times. The bags fit a whole lot and are extremely comfortable to wear. Extremely high quality, yet really stylist. Definitely one of my most favourite bag brands. Definitely an investment, but one that will be fully worth it. Highly recommend for daily use.
---
Longchamp bags are my favorite to travel with. They fold down into such a small size & open up to hold so much stuff like a Mary Poppins bag! It can withstand a pretty hefty amount & weight. They are incredibly high quality, so I'd say they are worth the price. They will last you a long time!
---
---
My medium le pliage bag has gone through the trenchesss with me. I literally use it for everything and I'm pleasantly surprised it's in this good of shape after like 5 years.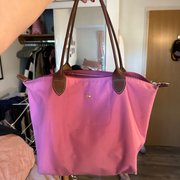 ---
What is Thingtesting?
Thingtesting is an unbiased place to research and review internet-born brands — because honest reviews help us all shop better. Learn more.
---
I was gifted a Longchamp a few years ago and while I adored it, I suppose it's not supposed to take too much weight. I would carry a water bottle, computer, iPad & a notebook and I guess the wear got the better of it bc the bottom seams on one of the sides started to rip. Honestly I've been a little scared of using it ever since just in fear that the whole bottom will give way one day. So very high quality bag as long as you adhere to its limits.
---
I've had my bag five-ever and I love it! The only thing is due to the type of material it's made out of the corners have worn and frayed a bit. It makes a great day bag!
---
I have one of the large travel bags and this thing has lasted for YEARS. It's held up wonderfully in all sorts of weather. I've taken it to cabins and hotels alike and any dirt wipes away with ease. It hasn't stained once in the years I've had it. The leather hasn't cracked and honestly looks/feels brand new. I love that there's a zipper around the midsection so I can double/shrink the bag's capacity depending on how much room I need. This is an amazing investment piece— it really is worth every penny and will last you a lifetime.
---
Have gone through my fair share of Longchamp tote bags. I love the large and medium sizes which I find perfect for school, work or travel. For school or work, it easily fits a laptop, notebook, iPad, charger, water bottle, snacks, sunglasses, and your wallet. For travel, I pack my laptop, travel size liquids, water bottle, makeup bag, jewelry case, chargers, and wallet. Would definitely repurchase. Sometimes the bottom gets holes in the corner from the usual wear and tear, but one bag easily lasts me 4-5 years so I have no problem replacing them due to how much use I'm getting out of them in that timeframe.
---
Longchamp holds a special place in my heart, and I can confidently give them a glowing 5-star review! Their Le Pliage bag has been my go-to companion for years. Its lightweight design and foldable feature make it perfect for travel and everyday use. I love that I can choose from a variety of colors and sizes to match my style and needs. The craftsmanship of Longchamp products is exceptional. Their attention to detail and the high-quality materials they use make each piece feel luxurious and durable. I cherish my Longchamp bags not only for their timeless elegance but also for their longevity. What truly impresses me is Longchamp's commitment to sustainability. Knowing that they prioritize ethical practices and environmentally friendly materials makes me feel good about supporting the brand. The customer service experience has also been wonderful. Whether I'm shopping in-store or online, the staff is always helpful and attentive, making the process enjoyable and seamless. In conclusion, Longchamp has won me over with their classic designs, top-notch craftsmanship, and eco-conscious values. If you're looking for a brand that combines elegance, quality, and sustainability, Longchamp is the perfect choice!
---
I love using my Le Pliage large tote for traveling, going to pilates, and the pool/beach! I love that it's so durable and easy to clean. I think if you use this as your every day school or work bag (or tend to carry heavier items) the handles will look and feel worn. I had another Le Pliage tote that I used back in college that I carried around books and my laptop in, and the handles got worn in pretty quickly!
---