Larq
Larq creates a portable water sanitization system to provide people with pure water.
www.livelarq.com
Average rating from 35 users
75%Recommend to a friend
Larq Reviews
All

35
LARQ Bottle PureVis

5
Water Pitcher

1
I have been using LarQ for the past year and a half. I gave myself a year before reviewing to allow margin of errors and let me tell you there was none. The bottle works brilliantly and its the best I have tried so far, the water is clean and not stale. The bottle is spotlessly clean and no odors. No faults.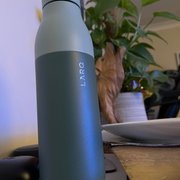 ---
I really wanted to like this product but it is very heavy for such a small amount of water. I also had a frequent problem of forgetting to charge the cap to get full use of the product. The look is really nice, but I will probably stick to my hydroflask.
---
---
There was definitely a lot of hype surrounding this product, especially after its appearance on Shark Tank. I gave it a try, but I found it inconvenient having to constantly charge it and the unpleasant smell that developed in the bottle over time. Now it's just sitting in the corner of my room while I stick to using my trusty swell bottle. It's not bad per se, but it's just not my personal preference.
---
What is Thingtesting?
Thingtesting is an unbiased place to research and review internet-born brands — because honest reviews help us all shop better. Learn more.
---
I have the LARQ Bottle PureVis™. It's a beautiful bottle but I don't really notice a major difference when I use the sanitization station, so I have slowly stopped using the functionality and just use it as a normal bottle. For that reason, I'm not sure if it's really worth the price.
---
I had high hopes but was underwhelmed by the water bottle. I like the idea, but the water bottle is relatively small and insulation is average. Cleaning/charging the lid is kind of a hassle, and I don't believe the disinfecting capabilities are appealing enough to justify the price point and upkeep. I think these are good as a gift, but I wouldn't purchase (or repurchase in my case) for myself.
---
I've used the LARQ Bottle PureVis for a couple years now, and it's still my favorite water bottle. I once read a study on bacteria growth in water bottles that haunts me to this day, so a self-cleaning water bottle is right up my alley. Not only does it stay clean longer, but it also keeps water colder than my other insulated water bottles and seems to stay sealed better with very few leaks. However, it is heavy, causing me to reach for lighter options for things like long hikes. In terms of the self-cleaning, I've noticed that it varies depending on water quality, though it does extend time between washes no matter what. When I lived in Chicago, I would wash my LARQ once every 2-3 weeks once that classic water bottle stink set in. Since I moved to Brooklyn three months ago, I haven't felt like I needed to wash it at all (no stink), which has blown my mind. I washed it after a couple months anyway, but it genuinely seems to work even better with NYC water. I do wipe off the rim every now and then if I feel like lip balm has stuck to it. Overall, I love my LARQ and would buy another if they came out with a lighter version!
---
Love the look and the tech of this bottle. Not sure if I received a faulty one but the "lip part" never fully goes down. That's about the only thing that bothers me about this product. But overall, great product- I am someone that cares about having my water filtered. No tap water for me!
---
Heavy and not very practical
---
I have the flip top straw and believe it's a poor design for cleanliness. Once it hits the ground or touch the bottom of an airport seat, the straw is dirty. Overall, it looks nice but doesn't hold much water once the filter at the end of the straw is placed in.
---
Great little water bottle with a sturdy feel. Love the UV light. Customer service is also friendly and helpful for any questions that come up.
---