Average rating from 18 users
88%Recommend to a friend
Kokada Reviews
All

18
Brownie Flavor

2
Original Flavor

1
Kokada was much tastier than I expected. I received the original and brownie flavors to try. I liked that they were vegan and peanut-free (personally, I love peanut butter but I think Kokada is a nice peanut-free option for when I have company). Both the original and brownie flavors were smooth and creamy. I tried them straight from the jar and then spread on crackers. I think these would be wonderful additions to charcuterie boards or just as a fun snack on pretzels.
---
The brownie flavor is great! You can tell is coconut oil based on the separation that happens every time I take it out, but it pairs well on ice cream, peanut butter sandwiches (a la nutella), and alone! My 5 year old likes it and he is a pain when it comes to different things. I'm looking forward to trying the original next! It shipped really well with no risk of breaking and not a ton of waste IMO.
---
---
Like caramel made from coconut... which i guess it what it is. I really like it, and I have an affinity for coconut based products (coconut milk, coconut sugar, almond joys). Kokada original spread is super tasty and nice to put on a plant-based yogurt...something tart since the spread is pretty sweet.
---
What is Thingtesting?
Thingtesting is an unbiased place to research and review internet-born brands — because honest reviews help us all shop better. Learn more.
---
I'm one for nut butters, and stuff like that to add to a bowl of fresh fruit and ice cream. Both flavors were fantastic, I liked the original much more (less of a brownie person but it's still fantastic). When I do run out I can assure you I will buy again. It isn't overpowering health taste and it doesn't taste too sweet and processed. It's the perfect mix of having a good treat with great flavor.
---
I like the taste, and that its a bit gritty like real brownie batter, but the separation makes it SO messy that's in my opinion its not worth the effort. I think this would be better if it came in a kneadable pouch like some other natural nut butters so that you could work the oil back in without it schlorping out all over the counter.
---
We tested the Original and the Brownie. Both were good although be warned that the Original definitely has a coconut mouth-feel... that is, the crunchy/chewy-ness of raw coconut which some might be put off by. The Brownie is completely smooth and absolutely delicious! Good stuff all in.
---
This is such a yummy, unique treat. It's a natural sugar that is tasty and can be used solo or on a variety of products as a dessert. If you have a sweet tooth, but are steering clear of refined sugar, this is the product for you! The flavor is definitely a combination of coconut and caramel. I've been keeping mine refrigerated and it gets super thick (more so than honey) which is the perfect soft-caramel-consistency for a little spoonful. It also warms quickly to be a little more spreadable if that's your style.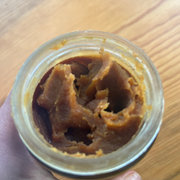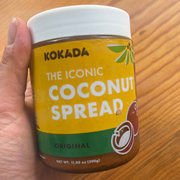 ---
Calling all coconut-nuts! This is the spread for you if you like coconut. I imagine it's a great alternative for people who can't do nut butters. I have honestly just been eating this by the spoonful, but would be bomb on oatmeal, pancakes, smoothies, new uses cases that have yet to be revealed to me. The brownie flavor tastes like brownie batter, and the original flavor tastes like, well, very specifically to me it tastes like a coconut Kind bar. Which is my favorite flavor of Kind bar! They do separate and solidify at room temp, but have been really easy to warm up in the microwave and fix. Love these!
---
Tastes good, a nice alternative to the classic nut butters. Pretty sweet (no added sugar). Bit expensive really :/
---
its a bit thicker and grainier than i expected as i normally think of butter as very smooth and more creamy, but the taste was quite nice. it's like caramel and coconut combined. The brownie is better than the original in my opinion, but that's because i like a chocolate caramel flavor. Love the ingredients, nutritional value and differentiation. Haven't used it for cooking yet but intend to use as an alternative sweetner and i'm sure it will be awesome!
---