Average rating from 33 users
86%Recommend to a friend
Kiehl's Reviews
All

33
Ultra Facial Cream

4
Avocado eye cream

3
Olive Fruit Oil Shampoo

1
Musk

1
Powerful-Strength Vitamin C Serum

1
Very nice products, but non as nice as their musk scent. So juicy and delicious.
---
Great gifts and a luxurious feel at a gym when I don't have to think about paying for it myself, but I wouldn't necessarily buy this for my own home. There are products that are equally effective and luxurious that don't cost this much. But there is brand cache, they deserve credit for that!
---
---
Expensive but the midnight recovery oil really makes a difference to my skin. I apply this lightweight oil before I go to bed and wake up with healthier looking and glowing skin. There was no irritation at all. I also love that the website highlights key ingredients thats in the product
---
What is Thingtesting?
Thingtesting is an unbiased place to research and review internet-born brands — because honest reviews help us all shop better. Learn more.
---
The ultra facial moisturiser is like crack for my skin! Really good quality products which don't disrupt the texture or break me out. My only reduction is the price, which I feel is a little more than I want to pay, particularly one that I use so often.
---
Great as a facial cream, the ultra light (blue box), not as great mask but still really good
---
I wonder if companies like Kiehl's pay enough attention when they hire their employees. How important it is to make the customer feel welcome and valued. Or if they get trained or if they get paid enough. I do not want to give my money to a company that doesn't make me feel good when I go to spend my money in them. I do like the products, but I am also aware of many other very good products in the market, I can easily change to a different products and achieve good results. Today I was in the store, I purchased $240 in products, 4 products and exchange some bottles, so I got the discount, that is why I stayed so at least I could use the bottle discount on my purchases, but there is no way I will go back. For sure I won't go back to Richmond Centre, in BC, most probably I will change to another brand. I ALWAYS get samples and tips etc., not today!
---
the avocado eye cream is a staple in this household. a little bit really does go a long way. Only qualm with that is I've never actually finished a container before it kind of goes bad.
---
Great products but kinda bummed so many products are in plastic for such a luxury brand.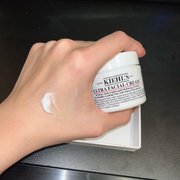 ---
For a long time, I used Kiehl's ultra-thick moisturizer. It was good. Their products are just expensive.
---
The eye cream is beautiful - absorbs really well, lasts a long time and does very slightly colour correct. Quite expensive, but worth it if you can afford it.
---