Average rating from 27 users
Kiehl's Reviews
All
Avocado eye cream

3
Ultra Facial Cream

2
Olive Fruit Oil Shampoo

1
Musk

1
Powerful-Strength Vitamin C Serum

1
For a long time, I used Kiehl's ultra-thick moisturizer. It was good. Their products are just expensive.
---
Kiehl's is a staple for many but as a skincare junkie I just think there's more exciting brands out there. I didn't feel much of a difference when using the avocado eye cream and for $60 dollars it wasn't worth a repurchase. Interestingly, my brother really likes the olive oil shampoo!
Avocado eye cream
Olive Fruit Oil Shampoo
---
---
I find Kiehl's products expensive, especially when you know it's just L'Oréal's "science-y" pharmacy-branded marketing play. All the products that I once bought from Kiehl's I now buy from The Ordinary. But for someone with sensitive skin, they have a few basics that I tend to buy travel-sized versions of, mainly because of the convenience and accessibility.
---
What is Thingtesting?
Thingtesting is an unbiased place to research and review internet-born brands — because honest reviews help us all shop better. Learn more.
---
I've used a lot of Kiehl's products, my favorites being the facial cream, the Midnight Recovery Concentrate, and the Musk eau de toilette spray. I really love the unique and dark scents of Musk, they're androgynous and the scent evolves and lasts a long time. Kiehls is such an old school brand that has done well with modern styles, but the Musk feels like such a lovely throwback.
---
I used their Creamy Eye Treatment for awhile and it was nice, but I didn't really notice a hug difference in my skincare. Their products are nice and relatively good for sensitive skin, but they are a bit pricey.
---
Kiehl's has always been a go-to brand for me, and their Powerful-Strength Vitamin C Serum is a testament to why. This serum is a game-changer! From the first application, I noticed a brighter complexion and a more even skin tone. Over time, my dark spots have faded, and my skin feels more resilient and youthful. The texture is just right – not too thick or watery, and it absorbs quickly, leaving no sticky residue behind. I love the subtle, fresh scent, which feels invigorating in the morning. Plus, the packaging ensures the vitamin C remains stable and effective. I've also tried other Kiehl's products, and their consistency in delivering high-quality skincare is commendable. Whether it's their classic Ultra Facial Cream or their Midnight Recovery Concentrate, each product feels like a treat for the skin. Taking off half a star because, as with many high-quality products, the price can be a bit steep. However, considering the results and the generous product size, it's an investment I'm willing to make. If you're looking to introduce vitamin C into your skincare routine, this serum from Kiehl's is a fantastic choice!
Avocado eye cream
Powerful-Strength Vitamin C Serum
Ultra Facial Cream
---
I started using the coconut shampoo and conditioner, and I've gotten lots of comments on how good my hair smells! Not the best I've tried in terms of shine and feeling clean, though.
---
Received a free product from Kiehl's
While out shopping with a friend, we stopped in a Kiehl's to get their Lip Balm #1 (price $12) and they gave us a free sample of the Calendula Deep Cleansing Foaming Face Wash. I had never tried Kiehl's before but after trying these products, I'm hooked. The Lip Balm is amazing. It's silky smooth and a little goes a long way. The Foaming Face Wash left my skin feeling soft and smooth and it evened softened some red spots I have. I'm looking forward to getting the face wash is a larger size. These products aren't cheap but they are definitely worth the price.
Feedback
Excellent, high-quality products that are worth the price.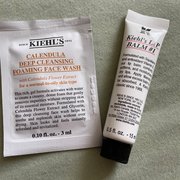 ---
I use Kiehl's Ultra Facial Cream every day and it's a perfect fit for me. It's not at all greasy, but keeps my face well moisturised, soft and generally healthy. Also, since I've been using it I've found I'm less prone to outbreaks. The only drawbacks I can think of are that doesn't contain any SPF and it's expensive (but I find that a pot lasts for ages).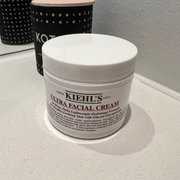 ---
the avocado eye cream is a staple in this household. a little bit really does go a long way. Only qualm with that is I've never actually finished a container before it kind of goes bad.
---