Average rating from 6 users
100%Recommend to a friend
Absolutely love this! The design is brilliant- just snap the pump onto an open can and off you go! The can is very well designed - the whole thing looks so good in the kitchen (and bathroom!) Smells amazing too. All round excellent!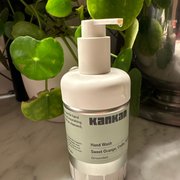 ---
Absolutely loving the bergamot, spearmint and sage body cleanser, smells and feels amazing. Even better that it's plastic free and super practical.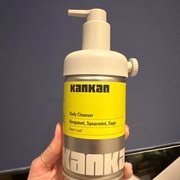 ---
---
The hand wash with its gentle, natural scent and soft feel brings a little smile to my face each and every time I use it. It's a moment of calm, of grounding, within the rest of my hectic day . Each of the KanKan products I've used has been equally delightful. But it is more than nice smells. It's obvious the KanKan has been developed using excellent and ethical raw materials, But what makes me really excited is their commitment to turning packaging norms on their head. It comes in a tin can that's infinitely recyclable, rather than wasteful plastic. Now, with its newest incarnation they've dispensed with the need to decant it. A reusable push dispenser sits on top of the can. This I blew me away. It's a minimal and clean solution practically and aesthetically. I love it, and think it looks great and works perfectly, and it excites me to see how else this system could be used. KanKan are leading the way here, it's a beautiful product delivered in what seems to be a brilliantly practical and sustainable way.
---
What is Thingtesting?
Thingtesting is an unbiased place to research and review internet-born brands — because honest reviews help us all shop better. Learn more.
---
great product! love the simplicity, i love the fact i can do it all myself at home without the trouble of sending back empty packaging to be refilled. it's quick and easy and has the added bonus of giving piece of mind that you're doing right by the environment!
Feedback
i would love to have more product types available, maybe some haircare products would be great!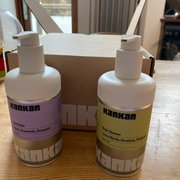 ---
Brilliant design and so easy to use and reuse....
---
I'm a fan of the Grounded handwash - love the orange scent! Also, the fact that I can dispose of the can easily when it's finished makes me feel better about the impact I'm making on the world (small thing I know but it all adds up). And the new pump is a thing of beauty...
---