joe'y
4.75 • 4 Reviews
joe'y offers a coffee alternative using a blend of superfoods, adaptogens, and full-spectrum mushrooms to provide focused energy.
www.drinkjoey.com
Average rating from 4 users
100%Recommend to a friend
The taste of this coffee is GREAT! I noticed that I don't have issues with my stomach while drinking it. The only issue I have is that you stopped listing the ingredients on the new packaging, other than that I'll continue to buy it.
---
Awesome coffee product. Love the smell and use of superfoods
---
---
As an ex-coffee drinker, I found my morning tea drink was just so-so. It wasn't as robust like my coffee had been. Along came joe'y and I couldn't be more happy!! The descriptors on the bag are exactly right -- smooth, rich, roasted. joe'y has a really nice flavor on its own, but when I started adding oatmilk creamer (vanilla) to it, the taste was elevated to a whole other level! I'm energized and focused without the usual jitters I had with coffee and tea. Drinking joe'y every morning is something I look forward to. Also enjoy a cup of joe'y in the afternoon if I need a pick me up (or a comforting drink besides water!). Fan for life!!!!
Feedback
Hope the vendor will consider a larger bag with more servings.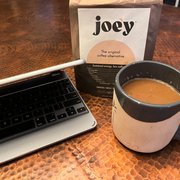 ---
What is Thingtesting?
Thingtesting is an unbiased place to research and review internet-born brands — because honest reviews help us all shop better. Learn more.
---
As someone who's coffee consumption habits spawn from desired increase in productivity (despite the taste), I've always been skeptical of products that contain lower amounts of caffeine yet promise the same energy. Not only did Joe'y provide me with MORE energy than my typical Starbucks order, but the effects lasted considerably longer as well. I'm taking less trips to the coffee maker, spending far less than I normally would on coffee, and enjoying a drink whose taste is night and day to my old go-to. I realistically can't see myself going back.
Feedback
I'd love for joe'y to offer an option with more servings included! It'd really help on days I'm doubling up.
---