Joey
5 • 3 Reviews
Joey makes an easy-to-use wagon stroller featuring a foldable design and added storage, along with other toddler travel essentials.
myjoey.com
Average rating from 3 users
We purchased the Joey because our son really doesn't like being confined in a stroller and we wanted something that seemed more free and easy- also wanting something we could easily take on trips and to outdoor festivals and activities! We are obsessed- cannot imagine life with a toddler and an infant without it. Our son loves it and we easily take it everywhere. It was better even than expected. Such a smooth ride. We take it everywhere and we love it so much. Good for more ages than it says! So much storage and the extra cup holders are crucial!
Feedback
I can't think of any improvements, but if I needed to mention one, maybe I would say built in Bluetooth speakers and a wine cooler 😅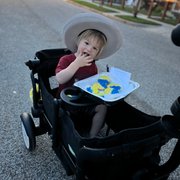 ---
I bought this wagon because I was looking for a stroller alternative that could fit more things and was less restrictive for my two-year-old son. We are a very active family and the wagon is the perfect accessory to our life, whether we're going to the beach or the park or an outdoor restaurant. My son will literally sit there totally contained and just play in the wagon, which he would never do in his stroller. I've also found that it wipes clean really easily after a mess.
Feedback
It's hard to say what could be improved. I didn't buy the retractable canopy, but I think I should have and keep meaning to get it.
---
---
I have been looking for a wagon to take my one year old on walks in our neighborhood and to town and was thrilled when a friend of mine told me about Joey. I was so impressed with how sturdy and smooth it was when pushed / pulled. My daughter is super stable in it and loves looking around and waving to people! The blue color is so chic too!
Feedback
Excited to hopefully see a travel bag which I heard might launch soon!
---