Average rating from 19 users
84%Recommend to a friend
CBD and coffee don't mix well IMO. Two strong and competing flavors. Also opposite function (calming and upping).
---
I did not like Jibby very much sadly! I had the oat milk latte and it had sort of an acidic/metallic taste. I would try this brand again but it wasn't smooth like how I expect when drinking an oat milk latte.
---
---
I tried the Oat Milk Latte! The flavor was a little bitter/sour for me at first but that was easily fixed by a little bit of sugar-free vanilla syrup. I actually stopped drinking coffee a couple of months ago because I kept crashing in the afternoon but Jibby is definitely a game-changer. No coffee jitters, no crash! I also felt more focused throughout the workday. Would love to try the matcha one next! P.S. Plus points for super cute branding and unboxing experience!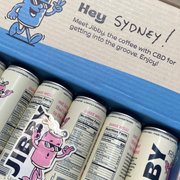 ---
What is Thingtesting?
Thingtesting is an unbiased place to research and review internet-born brands — because honest reviews help us all shop better. Learn more.
---
Friends with Jibby Coffee
Super smooth canned cold brew! Loved the taste.
---
Received a free product from Jibby Coffee
Wow!! I am an oat milk matcha 🍵 girl, that's my order at Starbucks and every coffeeshop that has it. The canned oat milk matcha from Jibby was so good that I had to have two more the next day! It doesn't drink like the thick foamy concoction that I am use to at a coffeeshop, but that isn't its purpose. The ready made thin liquid (well mixed no clumps) is flavorful and refreshing when enjoyed cold. I liked it over ice as well! Loved the CBD infusion, it wasn't too much. I felt great afterwards. Which was particularly helpful as I was enjoying during a stressful work event! Thanks Jibby
---
I've tried Jibby's oat matcha latte, and I really enjoyed it. It tastes like fresh green tea, but with a splash of oat milk. It wasn't too heavy like other oat milk beverages!
---
Really great customer service, awesome branding and nice cbd high. Really like the oat matcha flavour.
Feedback
I find the flavours to be a bit different from batch to batch, and the plain cold brew to be a bit bitter for my taste.
---
I love how their coffee gives you an energy boost without the jitteriness or anxiety of normal coffee. It is not sweetened at all though.
Feedback
More flavour options would be great.
---
I tried the oat milk late and it was a very strong and bitter taste.
Feedback
I would make it sweeter
---
Friends with Jibby Coffee
Great taste! Great flavor! Very effective & on brand. Can get warm very quickly. Recommend putting in a freezer for 10-15 minutes before drinking.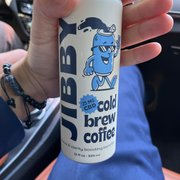 ---