Jewels & Aces
Jewels & Aces creates The Earring Capsule, a concept of interchangeable earrings to mix, match, and create multiple looks with a few key pieces.
jewelsandaces.com
Average rating from 1 user
Have I been living under a rock, or why did I only discover earring capsules 6 months ago? Genious. It takes zero space for travel and you have a completely new type of jewelry in a matter of seconds. I've worn them every day, the quality is great.
Feedback
The jewelry box could be made slightly smaller so it's more convenient for travel.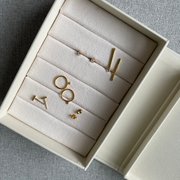 ---