Inka
Inka makes sustainable food container sets and lunch kits.
inka.world
Average rating from 10 users
40%Recommend to a friend
I bought a set of 18 containers in the color nori for myself and 6 containers in Manuka to gift to my sister. They arrived yesterday and they are really beautiful, unfortunately many of the containers were almost impossible for me to open. I am not a weak woman but my small hands coupled with longer length nails made some of them nearly impossible to open. They recommend using a knife to open them if having trouble but a knife didn't help all that much and using a knife long term would just damage the containers. They are certainly the most aesthetically pleasing food storage containers I've ever seen (even the packaging they arrived in!) However they will all be returned. If I were to put food in them I would spill it all over myself while trying to get the lid off. The instructions also say not to microwave any oily foods in them for very long. $260+ for 24 difficult to open containers that can't even be used to properly heat "oily" foods just isn't for me.
Feedback
Ease of opening and better consistency in the containers. Some of the exact same containers were much easier to open than others. If the lid design can't be changed for easier opening then perhaps selling a little tool designed just for prying the lid off would solve the issue.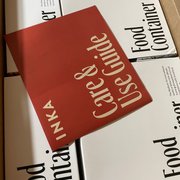 ---
---
I bought these around a year and a half ago and honestly the containers are just ok. They're plastic so I don't like to microwave them and that's something I knew but got caught up in the branding. I also think the suction is sooo strong that I've had to use a knife to pop them open a few times! What I do LOVE are the gold chopsticks. In the year that I've had them, they look as new as they did when I opened the box!
---
What is Thingtesting?
Thingtesting is an unbiased place to research and review internet-born brands — because honest reviews help us all shop better. Learn more.
---
I was looking for something that won't stain, was easy to clean and light compared to glass. Overall Inka delivered. This isn't your average grocery store Tupperware where's lids are just lightly in place but if you wait for your food to cool fully before storage the lids aren't that hard to open. I usually have a size 3 acrylic set on as well and I can still open these.
Feedback
I don't know that I would recommend this to anyone with hand mobility issues.
---
I bought the "large" size to use as my daily lunch container. The design and aesthetics and colorways are on point. HOWEVER, a key selling point of this product is also its fatal flaw -- the suction of the seal is so strong that I've injured my fingers too many times trying to get it open. It is impossible (no exaggeration) to open if you fully seal it when the food has been in the refrigerator or if it's a little warm. The key is to never seal it fully, which defeats the purpose of the seal. Yes, to be dramatic, this product has caused me both immense physical pain (ouch, my fingers) and emotional pain (imagine starving after a long morning at work and being so excited to eat your beautifully packed lunch, only to not be able to open it for 30 mins).
Feedback
Must must must be easier to open, my fingers are hurting from trying to type after trying to open my Inka
---
Great website and brand look/feel. The lunch kit wasn't appealing to me, but loved the clean look of the food containers. They are gorgeous and really useful for single servings of leftovers (not for storing large batches of anything.
Feedback
The vacuum seal is not a joke. These require a bit of a learning curve and some finger strength to open quickly.
---
I bought a 12 food container bundle at the beginning of this year (Jan 2022). I was going to give half of it to my mom and half to my friend. We washed it and tried putting food in one of the containers, but it was so difficult to open. My brother was the only one who could easily open the container. The way they suggest opening it, is to leverage the container against your body and use your strength on a corner to pop the lid open. But food has sauce in it so it could spill like that. I asked for a return and they said I could only return items that weren't used. So I kept the 'used/tested' one and returned 11 (2 of them were rinsed with water). Out of $124.80 they only refunded $67.80. The one container I kept, if sold separately would be only be $19. So I disputed my refund. They said they were charging me for the return, restocking fee, the 2 washed was not refundable, and they don't allow broken up set that were returned. I went over their claims against the refund policy on their website and none of that came up. They never replied afterward and had the audacity to change the return policy after I mentioned it. I had to get my refund through Paypal (how I paid for it). TLDR: Don't buy from them just because they say they're fancy. They have a manual for how to open a lunch box, and it's not effective. Returning is a major pain, if they even allow you to.
Feedback
They revised their policy so it's harder to return. Their actions don't align with their branding. I don't trust them so I wouldn't consider buying from them.
---
Do not order from this company. I spent $150 on an order that was never delivered, followed up with the company for 2 weeks regarding this without any response, and finally they responded today saying there is nothing they can do and do not plan on helping me with this issue. DO NOT ORDER! BUYER BEWARE!!!!
Feedback
Horrible, does not respond via customer service and will not assist in anything related to an order issue.
---
I decided to purchase the set of 18 and purge all of the contents of my plastics cupboard. The containers are really pretty to look at, stack perfectly and function as described. I rarely have use for the smallest ones, but they're cute nonetheless.
Feedback
Unfortunately, I've had to keep some of my old containers because the Inka containers aren't suited for a big chili or anything with volume -- they're too shallow. I hope they'll make double depth options shortly, they'd be much more practical and I think appeal to many more people to make the switch. Another small word to the wise is that they shouldn't be filled to the brim. I emptied a can of olives into the lunchbox size container and it created a vacuum seal that almost killed me to get unstuck.
---
I ordered the lunch kit. Yes, it is beautiful and streamlined - but I don't know who can subsist or get through the day on food that fills this tiny thing. The actual size of the container that fits inside - assuming I fill up the little pot with salad dressing, is sufficient for a side salad at best. Additionally, the 'easy fit' pocket for the utensils isn't easy. Its just shoving them in a pocket where they clank together and make it more difficult to close the carrying case.
Feedback
QC a bit better - my utensils came scratched and rubbed off, revealing the silver underneath before I even used them. Make the containers deeper so they can fit a normal person amount of food in them.
---