GOODLES
Goodles makes nutrient-packed, high protein and high fiber box mac n cheese in a variety of delicious flavors.
goodles.com
Average rating from 203 users
89%Recommend to a friend
GOODLES Reviews
All

203
Vegan White Cheddar

18
Pasta

17
Twist My Parm

16
Cheddar

15
Here Comes The Truffle

10
Cacio e Pepe

10
Goodles

5
Hatch Chile

2
Shella Good

2
Review highlights
Innovative flavor options
Nutrient-rich ingredients
Easy-to-follow instructions
Sometimes watery sauce
High fiber causes stomach aches
Unfavored noodle taste for some
They taste good, but they are usually double the price of Annies or Kraft. For me there is not enough added protein (I think the difference between Annies and Goodles is like 5 g of protein) to justify paying that much for boxed Mac and cheese. I would buy the product again if it was cheaper or if it had a higher protein content (like above 20 g)
---
I love that they are hidden veggies in here. Goodness knows the teens need that. These are really good though, and fun shapes too!
---
---
Makes eating boxed mac and cheese feel fancy. I love the different flavors they have, and all have been yummy!
---
What is Thingtesting?
Thingtesting is an unbiased place to research and review internet-born brands — because honest reviews help us all shop better. Learn more.
---
Excellent quality, higher protein and fiber alternative to typical pasta. Taste pretty close to typical pasta, especially compared to some other high protein/high fiber alternatives like Banza.
---
Received a free product from GOODLES
The Mover & Shaker Cacio e Pepe has a unique flavor for boxed mac that really stands out. I liked the aroma of the cheeses and fresh cracked pepper as if I'd made it from scratch. I was surprised how great this product turned out would recommend to anyone.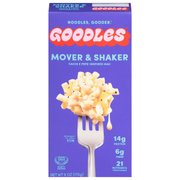 ---
These have replaced Kraft for me. I love the idea of having a Mac and cheese replacement that also has protein so I can still indulge and also feel full. Every flavor is amazing. And I don't miss Kraft at all while eating this!!
Twist My Parm
Cacio e Pepe
Goodles
Shella Good
---
Obsessed with the Goodles vegan mac n cheese. Hands down the best vegan mac on the shelves. I hope they make more flavors!
---
I was so pleasantly surprised by Goodles! I expected it to be good for a healthy alternative, but it's actually just good, period. It's flavorful (might actually be a little too salty tbh) and the noodles are bouncy when cooked right. It's easy to prepare, with you only needing just milk in addition to the box. Highly recommend to keep a stash for quick dinners!
---
Great option for quick meals. Love the extra protein in them to keep me full and all the flavors are really good. It's an "elevated" boxed Mac and cheese but it doesn't do too much. Perfectly balances some grown up tastes but keeps all the good nostalgic flavor and convenience we love about boxed Mac and cheese.
Vegan White Cheddar
Pasta
Twist My Parm
Cheddar
---
Goodles are good!! I wasn't sure if I'd enjoy them at first because I'm a loyal Mac and cheese lover but I truly could not taste a difference. I love how they offer so many different flavors because all of them are just that good.
---