Furbo
Furbo sells a dog camera, and treat dispenser to watch your dog when you are on the go.
furbo.com
Average rating from 9 users
100%Recommend to a friend
What a great idea - a 360 degree rotating pet cam. It allows you to interact, through an app, with your pet while you are away from home. It helps cut down on pet anxiety when they can hear your voice and have you interact with them remotely plus it gives the pet owner peace of mind knowing that they will be alerted in an emergency and can check in any time. There's also a remote treat dispenser, which is another brilliant concept.
---
We got Furbo as a holiday gift and enjoyed using it for a time. We stopped using it as we got more comfortable with our dog roaming freely in our apartment. Would recommend for new dog owners nervous about leaving their dogs at home alone.
---
---
The Furbo has made leaving my dog at home so much better. It's almost like my dog is excited when I leave because she knows she will receive treats. I love seeing her in the camera running over when she hears my voice. This is such a fun concept & a great gift for the dog owners in your life.
---
What is Thingtesting?
Thingtesting is an unbiased place to research and review internet-born brands — because honest reviews help us all shop better. Learn more.
---
Used with a new puppy. The camera makes me feel better about leaving for work. It's fun to throw treats
---
The only reason I can leave my dog at home and feel good about it. Great easy to use app that sends notifications for when to check in and so fun to send treats when out!
---
Furbo helps my husband & I feel comfortable leaving our 2 puppies at home for a few hours! We are able to keep an eye on them, get alerted when/if they bark, speak to them ("sit! get off the counter!") and throw treats. Definitely recommend.
---
Love my Furbo I have the mini and the original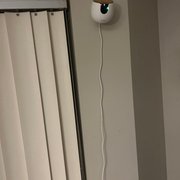 ---
The Furbo is a must for pet parents! I was hesitant to spend so much on a dog camera when my blink wireless camera worked just fine, but I'm glad I gave in. I purchased it after Ozzy (my cocker spaniel) developed severe separation anxiety from a big move. I love to fill the treat canister with CBD chews so I can toss him a treat if his anxiety starts to kick in while I'm gone. I also signed up for the Furbo nanny membership, which unlocks a bunch of other cool features such as daily doggy diaries and advanced notifications.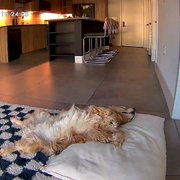 ---
This was one of our first splurges when getting our puppy. We knew we would need to do some crate training and that we would need to feel good about leaving Sunny home when we are at work. This camera system is fantastic. Not only do we have clear visibility on what is happening in the house but we can communicate with Sunny when he barks and toss treats for reassurance.
---