Average rating from 3 users
I've used Frank Green coffee cups and water bottles for years and they are good quality, they do the job. But I had a 1L water bottle and the design of the straw mouthpiece was awful, having to touch it to open, and difficult to clean. They redesigned it and released a new lid to address this problem, which had a silicon straw mouthpiece and button, so I purchased it, but the placement of and ineffecient functionality the button meant you were basically touching the straw mouthpiece still, so for me it was a waste of money, and I decided to change water bottles all together.
---
I puchased the 1L bottle, and I absolutely love the look and feel of it. I love the strap as it's easy to hold. I also love how you can customise your bottle with a different coloured lid!
Feedback
I dropped it once and it completely cracked the lid and dented the bottle, would love it was more durable.
---
---
I have owned many water bottles over the years and this is by far the best one I've found. The size of the bottle is amazing and there are so many different colours to choose from. Although I was hesitant to spend that amount of money on a water bottle I am glad I did because I don't regret it, I feel like it has definitely been worth the price. It keeps my drinks cold all day. I also love their sustainability values so I think all is a win. I take it everywhere with me and it fits so well in all my bags, and the best thing about it all is that there have been no leaks at all. The delivery was super quick and overall I would definitely recommend this brand.
Feedback
more colours could be introduced. Finding the exact water bottle I wanted on the website was hard, I think the navigation could be improved to make it easier to find what I want. Although I think the price is fair of the bottle, I would like to see accessories given alongside the purchase for the customer. It makes them feel a more luxury experience, but I also would say I think giving a straw cleaner would be great especially with the mouthpiece. I constantly wear lip balm and it gets in-between the mouthpiece. And make stickers!! people love stickers and its a great way for promotion.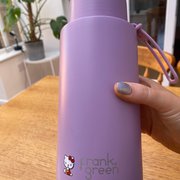 ---