Fluff Trough
Fluff Trough sells a variety of elevated dog and cat bowls that are designed to help flat-faced, elderly, and disabled eat their food.
www.flufftrough.com
Average rating from 3 users
Fantastic idea for all dogs, especially the smaller "flat-faced" pooches, like my neighbor's Frenchie. These elevated bowls keep pets' necks in better alignment and come in so many fun colors.
---
---
Friends with Fluff Trough
This bowl has been a true game changer for my dog. It has a wide area with an open-front design, which has helped his digestion - plus the insert itself can go in the dishwasher, so cleanup is easy for me! There are also risers that I've added to make it taller for him, but they have a smaller sized bowl as well as other accessories such as a "binge blocker" for speedy eaters, a lick mat, and a stainless steel insert for water.
Feedback
This is designed for flatter-faced dogs such as pugs and frenchies, but it really is a must-have for dogs of all breeds, cats and other pets.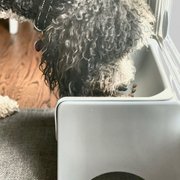 ---