Average rating from 10 users
90%Recommend to a friend
Firebelly Tea Reviews
All

10
Stop-Infusion Travel Mug

1
Received a free product from Firebelly Tea
I'm not a coffee guy, so I really appreciate quality tea and Firebelly is one for me - personally loving the Paradise flavor (chamomile) right now. It's clear that there is a great team and real passion behind this brand as every aspect seems intentional and well executed form the flavors to the branding/unboxing. Worth noting that they are loose-leaf teas which doesn't come across immediately and they do have some great accessories to better facilitate a proper pour.
---
I've tried a bunch of their teas and love every one. Right now my favourite is Sweet Hibiscus Rooibos iced!! I use their After Dinner Mint at nights to cut my chocolate cravings. Truly delicious. I've been looking for a brand with no artificial or natural flavourings in their teas. Love that this brand keeps it completely clean. They even list exactly where they sourced their teas on the back of the packaging. The packaging is gorgeous and makes me excited for my daily ritual. And their accessories are 10/10!! Never thought a teapot could match my kitchen aesthetic like this does.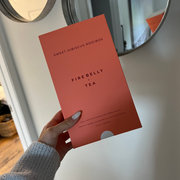 ---
---
Firebelly really delivers beautiful teas that taste great. I appreciate that they do not use any flavorings in their teas. These teas taste great. The accessories are also very cool. I use the travel mug which allows me to steep tea on the go and I can even stop infusion so it doesn't make a mess. Overall, great teas and great accessories 10/10!
---
What is Thingtesting?
Thingtesting is an unbiased place to research and review internet-born brands — because honest reviews help us all shop better. Learn more.
---
I read about Firebelly Tea in Arnold Schwarzenegger's daily newsletter. GREAT recommendation. I ordered two things from Firebelly to try. The travel mug and the crowd pleaser tea. The travel mug is heavy and sleek, it feels really nice in your hand. I appreciate that it does not leak and properly filters out the tea leaves. In my old travel mug the leaves leak through, gross. The tea stayed hot all day which was nice. The tea comes in this beautiful pink box , I love the look. The tea itself has a really nice vanilla and almond flavour, I enjoyed it a lot. It is not cheap, but you can taste the difference in the real ingredients. I cannot believe they use real vanilla, so cool! Overall, as an avid tea drinker, Firebelly is definitely worth the price and well defines you get what you pay for. I am going to try two more teas this month probably the mint one and the jasmine green tea. I hope I don't get too addicted.
---
I ordered 3 types of tea and their travel mug. The after dinner mint is by far my favourite. Such a nice chocolate and mint blend. The travel mug looks so sleek and properly strains the tea leaves after steeping. Excited to try it for iced tea also.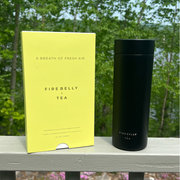 ---
Firebelly Tea's matcha is unbelievably good. I was a little skeptical, to be honest, but turns out the hype is real. It's creamy, tastes great, whisks up really nicely, and WOW does it get me through an afternoon lull. Instead of that weird temporary jolt of an afternoon coffee, when I drink this matcha I just suddenly realize I've been super focused and productive and didn't even notice. 10/10 for me, Firebelly turned me into a matcha lover.
---
Good tea and definitely high quality, but it's pricey for what it is and not super unique.
Feedback
Lower the prices. Make it more accessible. Add some more unique offerings.
---
their tea is so so yummy! fave is "the crowd pleaser"
---
I bought the small tea pot and three sampler packs. The pot is easy to use and clean. The teas (herbal, green, oolong) are all pretty delicious and well-packaged.
Feedback
The tea packets themselves are designed in minimalist fashion with small fonts and just the contrived name of the tea on it. I'd like to see larger letters (hard to read when fumbling around for early morning or late evening tea!) and a reminder of ingredients rather than just a catchy name.
---
I would think twice before buying from firebelly. I usually buy tea from silk road (all natural) and was excited to try firebelly. I ordered 5 different flavours and was deeply disappointed. None of the teas had any flavour. The forest fresh, a black tea, had only micro amounts of black tea in the mix. I feel like they cheaped out on ingredients, they are either stale, or non-present in the mix. In addition, the owners seem very reluctant to make any improvements to the tea.
---