Average rating from 2 users
I bought my wedding suit from Filippa K. In fact both me and my husband did. We were looking for suits that were cleanly designed, fitted well and skipped the unnecessary flourishes that so many suits have. This proved incredibly hard to fund until we found Filippa K. Their store design and staff also made the entire process a pleasure. They helped us make the right choice, offered alterations and provided great service.
Feedback
The one thing our suits missed when we purchased them were suit covers for safe storage in our wardrobe. Apparently Filippa K was working on a new sustainable cover, but it was a shame not to have this included. Filippa K is a little too expensive for me for everyday wear - there's no doubting their clothes are high quality, but if they introduced a line of basic essentials I'd buy them in a flash.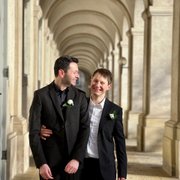 ---
I like the brand wore it for some years, simple designs, good quality.
Feedback
More designs, lighter fabrics
---