Average rating from 1 user
I had the fish pie. Delicious food, amazing flavours, cool packaging that I put in the compost. These guys have done away with the fancy branded DTC cardboard delivery box and use a second-hand box enjoying a new lease of life (mine had Starbucks printed on the side!!). More than that, they let you send back for free the insulation and cool blocks to them for cleaning and re-use.
Feedback
My only v small comment... it would be great if they did sizes bigger than 1 or 2 portions. Like party portions for 4 or 8.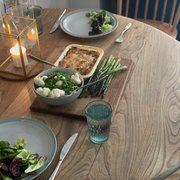 ---