Exponent Beauty
4.5 • 2 Reviews
Exponent Beauty makes a line of self-activated skincare products to deliver high-performing ingredients and efficient results.
What is Thingtesting?
Thingtesting is an unbiased place to research and review internet-born brands — because honest reviews help us all shop better. Learn more.
Average rating from 2 users
Exponent Beauty Reviews
Experience
This product's delivery is really innovative since Vitamin C loses effectiveness quickly when it is exposed to air. Although I have seen some reviews that indicated the dispenser assembly was difficult, but really it isn't. You screw the serum into the bottom and place the bottom cover on the container. Then take the protective cover off the Vitamin C powder and screw the dispenser into the clear top. Place the uncovered powder dispenser into the bottom dispenser and rotate the top for about 2-3 clicks and then a "clunk." When you lift the clear container that holds the powder you will find that the right amount of serum and powder are in the indent of the bottom piece. Swirl it around with your finger until the powder dissolves (5 seconds?) and apply it to your face and neck. When you're done, rinse the bottom's indent under water (it's water proof) dry it with a tissue and place the rubber cap over the powder in the top. That's it. I've used it for about 5 days now and my skin (which had some red marks from blemishes) has cleared and isn't red. I also have two brown spots on my face and they have shown no difference. I hope with further use they will also lighten. The one negative is how the serum feels on your skin after it dries. It seems to dehydrate my skin, even with a moisturizer on it. Late in the day, if you rub your skin it will "roll off." So instead of using it during the day, I started to use it at night and that resolves the problem.
High quality
Innovative product
Worth the money 💸
Fun unboxing 📦
Eco-friendly packaging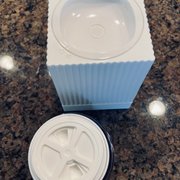 Experience
I've been using the Vitamin C Serum and the results have been so impressive after just a week I've just also ordered the Firming Filter CoQ10 powder too. The form factor is great as the same hydration system can be used to mix with different powders. The product is expensive, but I think it will last a long time as it only releases a small amount of powder in each portion.
High quality
Innovative product