Average rating from 16 users
100%Recommend to a friend
Estée Lauder Reviews
All

16
Double Wear Foundation

4
Advanced Night Repair Serum

4
Estee Lauder Resilience Multi-Effect Cream

1
Revitalizing Supreme+ Moisturizer Global Anti-Aging Cell Power Creme SPF 15

1
The Double wear foundation is one of my best foundations, always go back to it, time and again. Great quality, looks like skin and brilliant coverage. Does not budge!
---
I love this anti-aging cream. It feels hydrating on the skin. I use it on my face, neck, and chest every morning and night. Totally worth the price!
Revitalizing Supreme+ Moisturizer Global Anti-Aging Cell Power Creme SPF 15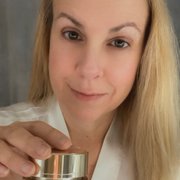 ---
---
I'm testing at the moment all these products I've bought, and I have to admit that my skin had a beautiful glow up! it's softer, smoother, there are less red spots. Great.
Advanced Night Repair Serum
---
What is Thingtesting?
Thingtesting is an unbiased place to research and review internet-born brands — because honest reviews help us all shop better. Learn more.
---
Influencer for Estée Lauder
The cream feels extremely light bur firm, and leaves your skin so shiny and refreshing feeling. I can feel this product in my skin for up to 12 hours!
Estee Lauder Resilience Multi-Effect Cream
---
Estee Lauder makes amazing moisturizers. All of the make-up products are long-lasting and worth the money.
---
The foundation I will use for the rest of my life. I've tried so many other foundations and I keep coming back to double wear. Nothing beats it. It is long lasting, blends smoothly, amazing coverage and looks like my skin.
---
The best moisturizer I ever tried. But it is so expensive :(
---
I use their daycream dailey It is a very thick and hydrating cream. Also very good under make-up.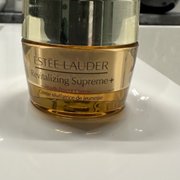 ---
I use the Estée Lauder advanced night repair serum. It is a well known product and very popular and I can see why! I'm about to run out of it :( it's a lovely serum to put on as part of your night time routine. It's soothing, hydrating and plumping. 100% recommend, I love this product
Advanced Night Repair Serum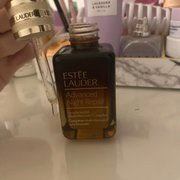 ---
Their iconic double wear foundation is in my professional makeup kit. The staying power of that is crazy. Some clients who use double wear are impossible to persuade to go to something different. In the times of dewy foundations and sheer glass skin this opaque and matte foundation still has its cult following. Skin care products are just ok I guess. I tried a few but I prefer the makeup line here. I had some lipsticks which I really liked. Mascara was also good.
---