Average rating from 17 users
92%Recommend to a friend
As someone who grew up with Dean & Deluca, I was thrilled by Erewhon. The prices are extremely high, but aside from that, the selection of products, produce and prepared foods was excellent, with so many brands I can never find. I had to try the famous smoothies, and personally thought it lived up to the hype, even if it was overpriced. While it wouldn't be the place to do my regular grocery shopping I would certainly frequent their many locations.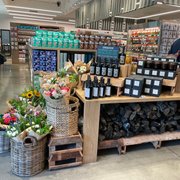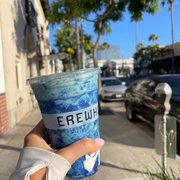 ---
Lots of fun, unique (expensive) brands at Erewhon! I would never shop at Erewhon for actual groceries, but it's fun to browse and discover new brands while sipping on a smoothie.
---
---
Love their chocolate chip cookies and chocolates. The cookies looked like any other cookies you'd eat but they tasted spectacular. They are the cheapest entry to this bougie ass grocery store.
---
What is Thingtesting?
Thingtesting is an unbiased place to research and review internet-born brands — because honest reviews help us all shop better. Learn more.
---
This is the bougiest grocery store you will ever go to, so be prepared to spend a lot of money. They have such a good offering of clean brands. Their hot bar & smoothies are so good & very filling, but very expensive. I really like their fresh juices, soups & housemade bone broths. The celebrity smoothie partnerships are fun & it gets me to order a drink I might not have before.
---
The poshest grocery store in the world 😂 It's hard to explain to my non-LA friends how amazing Erewhon is when they haven't experienced it first hand. I've been shopping there since my LA college days and always make a stop there whenever I'm in town. I'm not sure that I'd pay for one of their celeb smoothies but their selection of products is astounding.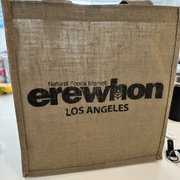 ---
I know it's wayyyyyyy overpriced but it's so worth it. I could browse through erewhon for ages. Side note the erewhon soups are literally the greatest thing ever. As a Mexican with a father who is a wonderful cook, the erewhon chicken tortilla soup is literally one of the greatest things I've ever had. Regardless of the price I will make budget to keep going.
---
Erewhon markets itself not as a "grocery store" but a "lifestyle brand" and I truly believe that is the only way to think about it. Erewhon isn't an everyday store for your everyday product purchases, but is a great place to get a quality prepared meal (expecting to pay restaurant prices), shop around a beautiful space, and try a variety of new products. Some products are marked up above going prices, but others truly are a fair deal. In addition, they showcase many small, local brands, which is a fantastic way to try and learn about them. Think, Thingtesting in retail form. I love the brand ambassadors that set up shop on any given day to sample products and tell you more about the founding stories. If in LA and looking for a treat, or to try that next viral smoothie, I recommend splurging for the "experience".
---
Price is really the only complaint here because of course their food and drink offers both packaged and fresh are incredible! My dream someday is to only do my grocery shopping here!
---
I didn't know one could love a supermarket that much before Erewhon. It's outrageously expensive but I just love the superb quality of their products, innovativeness and that it's truly organic.
---
Their house-made tortilla are out of this world.
---