Average rating from 12 users
100%Recommend to a friend
Incredible smell and product, all our guest have commented on where they can purchase!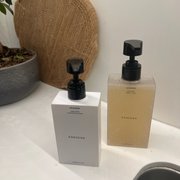 ---
The packaging has a minimal, clean aesthetic. Pairs well with different styles of bath and kitchen decor. Hand wash feels smooth and clean, incredible unisex scent. The lotion has a smooth glide and a great scent, leaving a clean, healing feeling on the skin.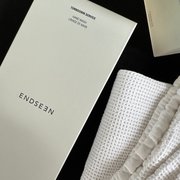 ---
---
Great smelling products.. my favorite is the Turn Down Service scent, which smells like a citrus blend. Really liking the Hand WAsh. Bottles look nice in the bathroom too : )
---
What is Thingtesting?
Thingtesting is an unbiased place to research and review internet-born brands — because honest reviews help us all shop better. Learn more.
---
Out of the office is a such a great scent, when you use the hand wash and cream together the scent has such great staying power. Also the hand wash is super hydrating. These also make such great gifts!
---
Personally, I'm a big fan of their Out of Office fragrance (suede / sandalwood feels). We use in our office and my colleagues / clients are HUGE fans. I also keep a mini hand creme with my wallet and keys when I run out the door everyday. HIGHLY RECOMMEND if you're looking for a niche, up and coming brand.
---
Loved everything about those products. The quality, the fragrance and the branding are in a class of their own.
---
What a fun brand! I feel like so many brands nowadays are image-obsessed, so it's the story behind Endseen that really gets me. The whole "telling your story through fragrance" is my own personal philosophy, I love how each fragrance feels perfectly nuanced to do so. The juice inside is great, too--the hand wash is super luxe, and the lotion is like scented silk. I'm a fan for life!
Feedback
Nothing to change--keep up the great work!
---
In LOVE with the Out of Office scented hand wash and hand lotion. This wash is non-drying and has a nice easy rinse off lather. The lotion isn't greasy at all. Both leave a long lasting luxurious scent. Smells woody and a bit floral. Also looks amazing on my counter top. Just ordered another scent to try!
---
I absolutely love Endseen. The smell and the feel for both the hand soap and the hand lotion are incredible. The hand soap is very smooth and will leave your hands feeling soft, and the lotion dries very quickly but the moisturizing feeling will stay in your hands for long.
---
I love all the product Endseen launch, there products are luxurious, from the packaging to the product itself. Whilst I love the whole collection, my personal favorite is the Out of office rinse-free hand wash. The scent is invigorating and there is no residue or stickiness. It is great for on the go, leaving my hands feeling fresh and without any of the dryness
---