Average rating from 4 users
75%Recommend to a friend
I love the sustainable mission of dyper, what I don't love is the blow outs.
---
Easy subscription - my aunts gave this to me for my 2nd child and it's awesome. Easy to adjust delivery, size, etc. I haven't figured out how to effectively add bulk wipes, so I order those on Amazon. Diapers- I've tried every brand of "green" diapers and I think dyper is most absorbent and I love that they are compostable. Unfortunately the redyper program doesn't make sense for an apartment/nyc resident, but hopefully they'll figure that out at some point. Wipes - best green wipes out there. They are as big as pampers and textured so they actually get all the poop, gook, whatever you're wiping off.
Feedback
Make redyper available more broadly. Make wipes as an add on to the subscription easier.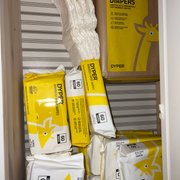 ---
---
Great quality diapers, they really hold up through the night and hold a lot of liquid. My son loves them and has never once gotten diaper rash. I love the company's mission and sustainable practices. I look forward to when they can offer Redyper in my area. Returns are easy, their wipes are great and customer service is excellent.
Feedback
They offer a military discount and also have great promos to get started. They will also send free samples to try their diapers out.
---
What is Thingtesting?
Thingtesting is an unbiased place to research and review internet-born brands — because honest reviews help us all shop better. Learn more.
---
I love their diapers and wipes. Their diaper bag is also great! Love that I don't need to go to the supermarket to buy them and they are just delivered when I need them. Customer service was also great!
---