Days Brewing
Days Brewing crafts a non-alcoholic beer from locally-sourced ingredients.
daysbrewing.com
Average rating from 8 users
86%Recommend to a friend
A Days Pale Ale was my celebratory train beer on the Liverpool to Manchester Express. I was visiting the UK to renew my passport. I really wanted to enjoy this, but I just didn't. The can design is on point. The beer was cold, but it just didn't taste good. Or like beer. It was a little too sour and also somehow slightly sickly. I love Days' mission, but this beer just isn't for me.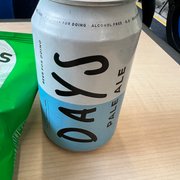 ---
Very good tasting non-alc beer and looks great also. Not my favourite, but very close second. Thank god, non-alc beer is getting so much closer to the real thing. Non-alc spirits are so far behind...can anybody recco one that tastes great?
---
---
Find it so frustrating that they advertise this as tasting like beer. It's not a horrible drink, but it doesn't taste like beer and telling customers that is not on. They can't believe it tastes like beer. I'm sure that is advertising this as tasting like a beer, they ultimately drive people away after initial purchase, because surely people feel cheated. I wish they'd just be honest and say, "It looks like beer. But it doesn't really taste much like it. This is for you if you don't want to have alcohol."
---
What is Thingtesting?
Thingtesting is an unbiased place to research and review internet-born brands — because honest reviews help us all shop better. Learn more.
---
Light, great tasting 0% beer - with a great mission!
Feedback
Tastes great and helps you have much better DAYS
---
I love the taste of beer, so love drinking Days beer, without the effects of alcohol but can enjoy a cold one.
Feedback
Great taste, great mission, great brand.
---
Great brand and tasty non-alc beer. Drink more and more non-alcs during the week and these are my go-to. The lager has tonnes of flavour and helps round off the day without impairing the following one! Love the website and their "Minutes" loyalty programme.
---
Surprisingly good tasting beer considering zero alcohol. Found myself putting them in the fridge and drinking a few mid-week, or mixing them in with other alcohol drinks at weekends. Ordered 3 times now. Also - the customer support is amazing! Needed beer the next day and they sent it priority post for me and didn't charge the extra delivery.
---
I've tried just about every low/no beer on the market and can confidently say Days is as good if not better than any i've come across. One of very few non-alc beers i've found that actually taste like beer as opposed to a watered down version of the real thing. Cannot recommend highly enough for beer fans who want a beer without consequences!
---