Crest
Crest sells an effective and cost-efficient way to get whiter teeth
crestwhite.com
Average rating from 7 users
67%Recommend to a friend
Crest Reviews
All

7
3d white toothpaste

1
I like Crest. It's the only brand that I'll use. I think it does the best job at keeping my teeth white. I always buy 3d white. It removes up to 90% of surface stains and deep cleans. It starts working after the first brush.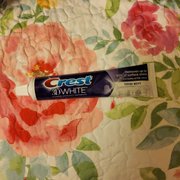 ---
Crest Whitestrips are the best I've tried out there! I do usually have to cut down on the time that they advertise as my teeth get too sensitive if I leave them on for the full amount of time.
---
---
Crest white strips do the job well but can make teeth sensitive over time.
---
What is Thingtesting?
Thingtesting is an unbiased place to research and review internet-born brands — because honest reviews help us all shop better. Learn more.
---
Okay, the first and only whitestrips I ever used. It helps my teeth brighter a lot.
---
I use their strips to whiten my teeth and they are doing the job pretty good. The only thing is my teeth do get a bit sensitive after using the strips.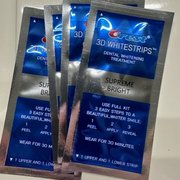 ---
In a world where beauty products often seem like instant magic, my experience with Crest White Strips serves as a reminder that results may vary and the path to beauty isn't always a smooth one. While the strips did deliver on their promise of whitening, the lingering sensitivity cast a shadow on the overall experience. 🫤
---
It's ok.. But Just OK. It did make teeth a little whiter but after 2 weeks nothing exciting happened.. was think a little more whiter please ..but ok
---