Average rating from 1 user
Been trying to go plastic free and Cliffset solved a small but very real problem. Using utensils on the go got dirty and was gross to reuse after forgetting to wash and repack. The alcohol sprayer keeps the utensils clean and ready for my next meal. They're sturdy, feel good in my hand, and are pretty dang stylish. Would recommend.
Feedback
The paint on the utensils has worn a little but still stylish and perfectly functional.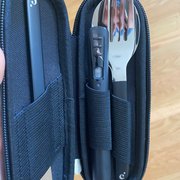 ---