Average rating from 15 users
93%Recommend to a friend
Chilli Bomba Reviews
All

15
Sour Watermelon

2
Spicy Mango

1
Thoroughly very impressed. I tried the watermelons. They're a bit sticky but so fun. I kind of want to put them in a drink?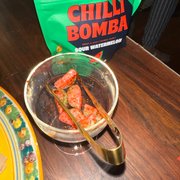 ---
Received a free product from Chilli Bomba
The sour watermelon flavor with delicious - like a watermelon sour patch candy, but the chili adds a lovely extra pop. My only complaint was how sticky they were (could have been the heat?). BUT I found a hack. store them in the fridge. They are perfect that way,
---
---
These are very very good! I won't say I enjoyed all the candies but most of them were the absolute bomb dot com. One thing I enjoyed was just how many pieces of candy were in each bag! Sour watermelon, sour buddies, peach rings, and the strawberry belts are my fave. Hot tip, put the Sour watermelon ones in the fridge! The mango and gummy worms weren't my favorite, something about the texture were a miss.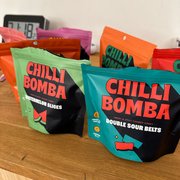 ---
What is Thingtesting?
Thingtesting is an unbiased place to research and review internet-born brands — because honest reviews help us all shop better. Learn more.
---
Wow. This is one of my favorite things I've tried this year. Despite it being clumpy and kind of hard to get out of the packaging, the taste makes up for it.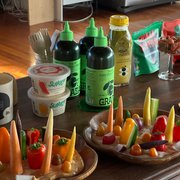 ---
My husband loves these. He's really into sour candy. I've gotten him a few brands of similar candies to try and this was the best one that I've gone back and ordered again. Not sure if this is the same for the new packaging, but would be nice to have expiration date printed on it. I bought one pack at a store in LA with the old packaging and wasn't sure how old it was/if it was still good.
---
Delicious! Love the gushers, watermelon, and mango. Messy but worth it!
Spicy Mango
Sour Watermelon
---
i'm a candy girl and these hit the spot.
---
Influencer for Chilli Bomba
Loving the flavors! My first favorite is the sour watermelon, second is the sour belts and third is the spicy peach rings! These are unlike anything I have ever tasted with the sweet from the candy, and the spicy from the chamoy! Sooo good!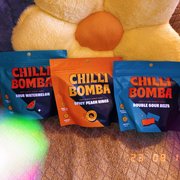 ---
Top notch candies with top notch chamoy…small batch made in a home kitchen can't get any better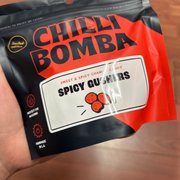 ---
I've bought these from their online website and from a few liquor stores that carry them in Los Angeles and they are absolutely amazing! I should not be going through the bag as fast as I do, but it's almost impossible with how good they taste!
---