Chia Smash
5 • 1 Review
Chia Smash makes all natural, low sugar fruit spreads using a blend of chia seeds and dates.
chiasmash.com
Average rating from 1 user
I was on a mission to find healthy jam with a limited number of ingredients and no added sugar for my toddler's PB&J sandwiches. I was so excited to find Chia Smash! It's delicious, easily spread and honestly it takes a lot of willpower not to eat the jam straight from the jar. 😆 The Apricot flavor is my favorite!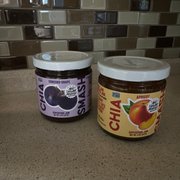 ---