Average rating from 92 users
92%Recommend to a friend
CeraVe Reviews
All

92
Moisturizing Cream

25
CeraVe Hydrating Cleanser for Normal to Dry Skin

18
Cerave cleanser

12
CeraVe Salylic acid cleanser

6
Under Eye Cream

3
Smoothing cleanser

2
PM Facial Moisturizing Lotion

2
Daily Moisturizing Lotion

2
AM Sunscreen

2
Serum

1
Smoothing cream

1
Moisturising lotion

1
Foaming Facial Cleanser

1
Healing Ointment

1
Resurfacing Retinol Serum

1
Skin Renewing Night Cream

1
CeraVe Eye Repair Cream

1
Hydrating Cream to Foam Cleanser

1
I use a facial cleansing bar from CeraVe and I love it. It's hard to find a face soap that doesn't suds a lot but also isn't expensive. I was worried that the bar would be weird since I usually use liquid, but it's great! And it leaves my face feeling clean but not dry.
---
Just excellent - the most trust skincare (for me) at the American pharmacy. I especially like their Salicylic Acid Foot cream, which is excellent for exfoliating dry skin in colder months.
---
---
I've tried all sorts of skincare, and CeraVe is my tried and true. From the hydrating facial cleanser to the moisturizing cream or lotion, this is a brand I can trust my sensitive skin with. I know my skin will be left feeling clean, healthy, and moisturized and that I'll get more than my money's worth with how long each bottle lasts!
---
What is Thingtesting?
Thingtesting is an unbiased place to research and review internet-born brands — because honest reviews help us all shop better. Learn more.
---
I can't say enough great things about this brand. This moisturizer should be in every bathroom in every home. Go full body after your next shower, you won't regret it!
Cerave cleanser
Moisturizing Cream
---
I can't recommend CeraVe enough. I've been using their face wash for years and love it. Their sunscreens are also great but can leave me feeling a little oily in the summer. A really great safe go-to brand! Especially for the price point!
---
I swear by CeraVe moisturizers and face wash. It's what my dermatologist has recommended, and it's what has become my tried and true! The products are great for sensitive skin, and while it's not the most luxurious or cutest packaging, it gets the job done!
CeraVe Eye Repair Cream
CeraVe Hydrating Cleanser for Normal to Dry Skin
Moisturizing Cream
---
great moisturizer and face cleanser for sensitive skin!
Cerave cleanser
Moisturizing Cream
---
A really great all round skincare range, especially for sensitive skin and for people with other sensory issues i.e. smell, because it is unscented.
---
One of my ride or die brands, tried and tested! Have used a few things and my most favourite products are the Resurfacing Retinol Serum - a great retinol product for beginners, super effective & affordable. Frankly has changed my skin, onto my second bottle now. Also love the Skin Renewing Night cream - it is heavy in texture, but extremely hydrating, a great combination with the serum. A staple also is the Salicylic acid cleansing face wash, a great cleanser for acne prone, combination skin.
Resurfacing Retinol Serum
Skin Renewing Night Cream
CeraVe Salylic acid cleanser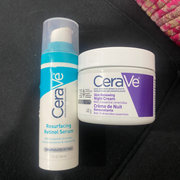 ---
I've used their serum and moisturiser. I have to say this brand is very affordable and given it was recommended by dermatologists I thought I might as well. The serum was nice, felt nice on the skin and sank in very well. The moisturiser was a bit heavier and as I have combination skin I didn't really get on with it. Might be better for drier and sensitive skin. I'd repurchase the serum but don't think it's as strong or effective as more potent products out there.
---