Average rating from 32 users
68%Recommend to a friend
Received a free product from Camp
I was pleasantly surprised the color came really close to regular boxed mac and cheese. The vegan lifestyle isn't my thing it was kinda gritty and tasted very processed despite being "healthy". Also the dealbreaker for me wasn't even their product but their customer service was terrible. There was no way to directly get in contact with any of their staff like a phone number or anything. They gave me the run around and I had finally got someone to answer my emails after about a week. They wouldn't give me a refund. I had to muscle them for one with paypal, I don't think they are in business anymore and I can see why!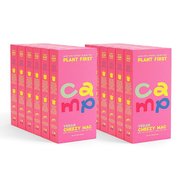 ---
I got instagram influenced to buy these. The boxes look super cute on my shelf but the taste/texture didn't blow me away. It was passable for being gluten-free and vegan but since neither of those are requirements for me I would reach for a more traditional brand over this one.
---
---
I don't like the powdery taste and the odd flavors, but was really excited about this brand and the healthy options that it provides. I might give it another try.
---
What is Thingtesting?
Thingtesting is an unbiased place to research and review internet-born brands — because honest reviews help us all shop better. Learn more.
---
The noodles are a little grainy, but to be expected with new vegan brands. Otherwise, they are super tasty! Perfect for an easy quick dinner and blends will with add-ins (flavored oils, vegetables, more cheese).
---
i've tried a couple of their flavors and the flavors are quite yummy! the noodles are a bit grainy, but it doesn't bother me too much. shipping was also super fast, i got my box within 2-3 days!
Feedback
mac is a little sweet
---
Really easy to make - like your classic boxed macaroni and cheese. I tried the cheddar and the Parmesan flavors. The Parmesan was so much better in my opinion. I added some truffle oil (Truf!) and black pepper and was so good.
Feedback
The noodles are definitely plant-based noodles… so the texture is a little off, slightly grainy.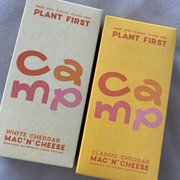 ---
I'm so surprised by some of these bad reviews! I tried the original mac and cheese tonight, and I loved it. I loved how big the noodles were, and they tasted better to me than banza. I also think the mixture of different ingredients made it easier to digest. Sometimes I have trouble eating a lot of chickpea-based noodles. I used only butter and cheese (no milk), and the cheese was a little grainy, but I don't mind that. I would give five stars if it had been thicker and creamier but maybe milk would help with that. Pro: - cute branding - gluten free - yummy - fast shipping Con: - it's expensive $$$ 19.99 for 3 - lots of ingredients (aka not a healthy substitute but good if you are GF)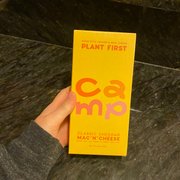 ---
The original vegan mac flavor from Camp tastes nearly identical to the White Cheddar flavor of Hippeas. Initially, this was a boon, as I adore that snack and could demolish a bag with no problem, but once you're experiencing that flavor in a mac and cheese bite as opposed to in a crunchy snack curl, the artificial flavor suddenly tastes distinctly chemically and brings on the "ick" after a few bites.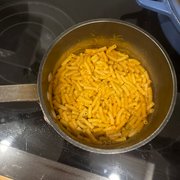 ---
I ordered the vegan mac and it tasted good. It's a little sweeter than I would like but I still enjoyed it.
---
Delicious mac and cheese that has extra veggies, cute packaging and is an elevated version of a family classic!
---