Average rating from 30 users
79%Recommend to a friend
Brita Reviews
All

30
Marella

1
Maxtra Pro

1
ultramax

1
Brita filters are essential for drinking NYC tap. The water is clean, but the pipes are very gross and dirty, and you want to make sure you're not ingesting all that.
---
I never was a fan of brita even before the recent news about it, I just feel like it never tastes clean, I don't know, I just really do not like it. it would be great, and very sustainable if it was better but I always feel like i'm sick after I drink from brita.
---
---
ordered and used the extra large 27 cup filter that fits on the shelf of the fridge. it only lasted a few months before it started excessively leaking. at one point, water overflowed past the shelf it was on and soaked a box of seltzers we had. the box was difficult to clean up, and we attempted to shift the position of the filter container to see if that was the issue. it was not. it just kept leaking, so we stopped using it.
---
What is Thingtesting?
Thingtesting is an unbiased place to research and review internet-born brands — because honest reviews help us all shop better. Learn more.
---
I had a few in college and they work when it comes to filtering water, but they grow algae very easily no matter how much you wash and change the filter.
---
Have I owned a Brita? Of course. Have I ever really enjoyed using a Brita? No. Though to be fair, this probably comes more from the POV of it Brita possession always seeming to be when I have several roommates and someone always seems to not fill the pitcher back up or it then hogging precious fridge space forever.
---
I use Brita filters to make coffee as we have horribly hard water in Copenhagen. The jugs okay looking, but they certainly don't improve the look of my kitchen. The filters are expensive, and actually hard to find in Copenhagen. I really don't have strong feelings about this one. Overall this is a product that I need, but don't want.
---
I really like Brita and have used their products for years. The tap water where I live doesn't taste that great so I usually get gallons of water delivered and Brita has saved me in many a snowstorm when I couldn't get bottled water. I also like the idea of keeping a small Brita at work to filter the office tap water so I'm not constantly buying drinks from the vending machine if I run out of what I've brought with me. I saw that Brita has a filtered water bottle that I am planning to purchase to bring with me when traveling.
---
Brita is the OG water filter for a reason. They make it easy to drink tap water and feel ok about it. The replacements aren't absurdly priced. 5/5. I appreciate Brita's range in price points, sizes, colors, and functions of pitchers and coolers. When I was growing up in DC in the 00s, the city's tap water was so bad that government sent households brita filters and every month they FedExed (not USPS) replacement filters. I think it really said something about the water quality and the power of Brita that they ran that program. It also probably says about how poorly the DC city gov't was run that they didn't use the federal mail system but a private, more expensive shipping partner for monthly replacements. But I digress… Brita saved our drinking water! And now 20 years later, in a new city I'm still buying Brita.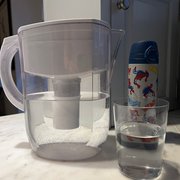 ---
More like a 3.5 review. Overall Brita products are good and it's nice that you can buy the filters at most major retailers. The biggest thing is that constantly using a plastic container for your water starts to wear over time. It helps against LA hard water, but not my favorite solution. Would love to see Brita make a product like: Aarke Purifier Glass Purifying Water Pitcher with Stainless Steel Filter
---
Gets the job done! My only complaint is that they can get a little murky if left out on the counter.
---