Average rating from 1 user
The material is really unique - it's sort of between cotton and silk. I love the iTKit because I can fold all the bags and store them inside of the tote. I hang the tote by my door so I'll see it when I'm walking out. It's a pretty color so it looks good.
Feedback
I would like some larger produce bags and an inside pocket for the tote.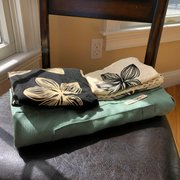 ---