Branch
Branch is a premium office furniture brand making it easy and affordable to create inspirational offices for the home and workplace.
www.branchfurniture.com
Average rating from 16 users
94%Recommend to a friend
Just started using my duo standing desk and I love it. The sage green color is awesome, the overall quality is great and well priced. We will see how long it can last, but based on the quality I anticipate having this desk for a long time.
---
I would give my Branch Daily Chair 10 stars if I could. Looking back, I truly don't know how I did Zoom University for a year and a half from my bed 😅. When I started my job in June (shoutout Team Thingtesting 👀), I knew I needed to upgrade to a desk at the bare minimum. So I bought a pretty basic desk from IKEA and a random chair from the kitchen section of the store. I immediately regretted going the cheap route with said $65 chair and knew I needed something more substantial - my back and neck were killing me. I scoured the internet to research the hype of Ergonomic chairs (it's real) and read every article on how to WFH the proper way (RIP to the days of doing business school from my bed). I ultimately landed on Branch's Daily Chair for its affordable price ($249) and sleek design, seemingly a rarity to get both in this desk chair world. I can sit at my desk for hours without feeling back pain, the setup was pretty basic (or so I'm told by my friend who put it together in just a few minutes for me 😎), and it feels really high quality for the price point.
Feedback
I had to 'pre-order' the chair so it took a while to ship with not a lot of status updates. Clearly very worth the wait though!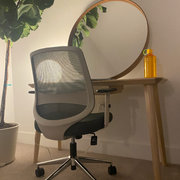 ---
---
With working from home I've found that I needed a more ergonomic chair but the pricepoints were all so high! This brand is one of the more affordable options and still looks better than the typical (ugly) office chair. Even recommended to my sister's boyfriend who also purchased one!
Feedback
I wish they had some cooler colorways as well as more lighter, neutral options. I also always accidentally adjust the arm rests but that might just be a me thing…
---
What is Thingtesting?
Thingtesting is an unbiased place to research and review internet-born brands — because honest reviews help us all shop better. Learn more.
---
I bought the Ergonomic chair when setting up my office for wfh. I chose it because it's adjustable, had a few different color ways, and great reviews. A couple of months in and I'm really happy with it! It was super easy to put together and I like that Branch sent the instructions through email so no more searching for paper instructions again when needing to disassemble and reassemble. It's very comfortable and I like that I've been able to adjust the chair to fit me almost perfectly. I get the impression that this chair will be lasting me awhile.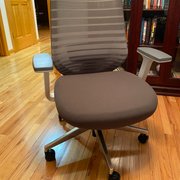 ---
Have been sitting in chair from home office for 9 months. Awesome!
Feedback
Excellent customer service so no issues yet
---
The purchase experience was smooth and I love the chair, great price for value!
Feedback
There wasn't much instruction on how to set up the chair or make sure it was ergonomically correct.
---
I have purchased 2 branch furniture chairs--the Ergonomic Chair in grey (sadly lost in an apartment fire over the summer), and most recently The Daily in linden green to replace. To be honest, both read as warm and cool shades of taupe which is perfect for my needs and decor. I've never had an issue with their customer service, it ships quickly and assembly is a breeze.
Feedback
Surprisingly The Daily chair is more ergonomically comfortable (and a nicer shade) than the Ergonomic chair--important to note that I have an inflammatory disease so the support each provides may align with my body differently than the intended design but highly reco both.
---
Super happy with my Branch Ergonomic chair! Top notch product for this price point, quick delivery, easy assembly, and very comfortable to sit in for a long day of WFH
---
I ordered the Ergonomic Chair and the Office Desk from branch ~ a year ago and I love both! The chair is super comfortable, and both seem to be made out of high quality materials. Their customer service is also FANTASTIC. I lost a wheel off of my desk chair when I moved recently, and they sent a replacement immediately after quickly chatting with their customer service team on their website. 10/10 recommend.
---
I own the Daily Chair, and love it. I had a little trouble during assembly and cracked a part of the underside of the seat cushion (may have been user error...), but Customer Service immediately sent me a replacement free of charge.
---