BOXI by Semihandmade
BOXI by Semihandmade creates modern cabinet systems for all rooms that are high quality, affordable, and ship preassembled.
boxibysemihandmade.com
Average rating from 6 users
83%Recommend to a friend
BOXI by Semihandmade Reviews
I loved how easy it was to work on my design with the BOXI team - from measurements to planning to having to make design changes. Everything was smooth and easy, and best of all, it all came assembled.
Feedback
I would love to see a wider color assortment in the future.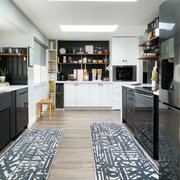 ---
We initially had a wonderful experience ordering these cabinets, were were made aware of the extended wait, which was no problem. The nightmare began with delivery. 6 of 21 packages damaged. They shipped the fully built cabinets with Plastic shelf brackets holding the shelves in place within the cabinets, so as you can imagine many snapped or came unfastened, and many of the shelves ended up lodged in strange positions within the cabinets. The delivery service that Boxi contracted with dropped fully built cabinets off the back of the moving truck, breaking or denting several cabinets. Several of the panels to cap the ends of the cabinets were damaged as well. The policy is I had 3 days to inspect these cabinets for damage, so I had to unpack each one and inspect them. I reported the damage immediately. I was told it was going to be sent to their claims department, which dead ended for weeks. Leaving my kitchen installation dead in the water. Finally a month after the the delivery, their rep contacted me again, and refunded me for one cabinet, and told me the parts I needed would be sent. I received a notice that my "order" for replacement parts was filed, and then over a week later I get a shipping notification. I inquired what was being sent and I was told it was the cross panel for my corner blind base cabinet, and the plastic brackets. I asked a clarifying question about my oven side panel, and was told that was included. Today I received the cross piece to my base cabinet and they sent me the wrong size, a bag full of plastic brackets, and no side panel. Covid and supply chain issues are not the issue here, once you pay them, and the order is delivered, good luck. It's barely an afterthought making it right.
Feedback
They should not ship the cabins with the shelves pre-assembled. They really need to be immediately responsive to damage, and replace, or refund for ALL damage, not just what they pick and choose.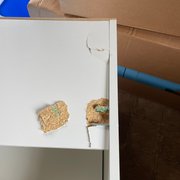 ---
---
From the beginning of us reaching out, the Boxi team has been very responsive and helpful. The whole experience was seamless and I couldn't be any happier with the result of our kitchen.
Feedback
We installed most ourselves, so a couple steps there was some hiccups with what some pieces were for. Being newbies, we emailed and ask. They did respond very quickly, but I feel like maybe more labeling or instruction identification would be helpful.
---
What is Thingtesting?
Thingtesting is an unbiased place to research and review internet-born brands — because honest reviews help us all shop better. Learn more.
---
Great experience overall, with quick delivery, attentive customer services throughout the ordering process, and quality product.
---
I researched several online kitchen cabinet makers and settled with Boxi because of their fast turnaround and super helpful guidance in putting the pieces together. I got quotes from $20K and above from other online cabinets as well as local custom shops. Boxi came in at almost half the price. The cabinets come assembled and relatively easy for my contractor to install. Joanna was able to problem solve several issues and she was responsive to all my needs. I highly recommend Boxi!
---
We loved the quick turnaround and customizability of Boxi. Shipment and delivery were seamless. The overall aesthetic functionality (soft close, etc) exceeded our expectations. It is a quality product manufactured in the US. I would definitely recommend Boxi to others.
Feedback
Drawers didn't seem finished with bars instead of panels on sides - makes it difficult to utilize full drawer space. Cabinet end panels are thin mdf sheets, so we made a leg out of trim to make end panel look more finished.
---