Average rating from 1 user
I like this watch because it doesn't slide up and down my arm due to band size. I think the style and color is awesome. It's a bit expensive for a child, but hopefully it will last awhile. This watch I bought is for me! 68 years old with a small wrist. I only wished it had time and date.
Feedback
Time and date would be a nice addition to this watch.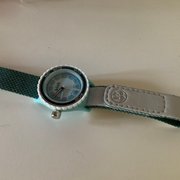 ---