Average rating from 102 users
85%Recommend to a friend
BÉIS Reviews
All

102
weekenderbag

13
carry on

6
Large check in

4
backpack tote

3
North to South Tote

1
Packing Cubes

1
Backpack

1
LOVE my mini weekender. I'm so glad I bought it. Fits perfectly on my carry on luggage and will count as my personal item for extra packing space. The bottom rigid compartment is soo convenient, you can put your shoes which usually take up so much space in your luggage. It's great quality and I love that the bag stays open so easy access to your stuff. Highly recommend!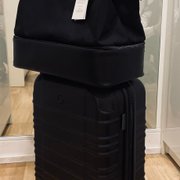 ---
Love the sport sling bag for travel instead of a traditional fanny. Love the everyday pet tote, beautiful and easy to clean. The dopp kit is too chunky for me, takes up so much space in my carry-on, and the backpack in cream doesn't hold it's shape and got dirty very quickly. Beis is a brand where it's total hit or miss for me. The hits are usually non-traditional accessories. For everything true luggage, I prefer the traditional luggage brands. I used to be a luggage buyer and at the end of the day, the Samsonites of the world are best-known for a reason!
---
---
Love the carryon luggage- It's held up and is so chic! Don't love the beige weekender. The weekender gets dirty and is heavy with nothing in it. The makeup bag is amazing too - very sturdy.
---
What is Thingtesting?
Thingtesting is an unbiased place to research and review internet-born brands — because honest reviews help us all shop better. Learn more.
---
Quality at such a good price.
---
Didn't love the quality of the weekender bag. The zipper had issues, and it struggled to stand up when the bottom shoe compartment was zipped on. I wanted to love this but ended up selling it secondhand :( I feel like I'd love Beis if the quality was a little better, I'd also be willing to pay more for it.
---
I own the travel backpack, weekender bag, cosmetic bag, small clear cosmetic bag, packing cubes, and laptop sleeve. I've also purchased the diaper bags as gifts! Love the products, well made/high quality!
weekenderbag
Packing Cubes
Backpack
---
I love my weekender bag! I try not to fill it too much because when it gets too heavy, it is hard to carry on my shoulder.
---
This brand is overall very aesthetic . They offer matching colors for different products. The only thing is that the product does get dirty and scratch quite easily. So make sure to take that into consideration before you purchase.
---
I love BEIS!!! I own multiple sets of their luggages plus their weekender bag and other products! Everything is so well thought out, useful and very functional. Best travel wear brand I've tried. One of my favorite features of their luggages would be the built in weight indicator, I have never seen this done before and it comes in handy every time I fly! The price point of their products is also amazing in comparison to other luggage brands. The quality is also so amazing and worth it. Will continue to recommend BEIS to friends and family!
weekenderbag
Large check in
carry on
---
I have the backpack and it is AMAZING! I can fit days worth of travel gear with me and it also serves as a sleek work bag. The tan/beige color can get a little dirty, but has held up better than I expected
---