Average rating from 36 users
88%Recommend to a friend
AWAKE Chocolate Reviews
All

36
Caramel

6
Dark chocolate bites

5
Milk chocolate bites

3
Peanut Butter

3
I loved these so much. As someone who doesn't drink coffee, they don't have an overwhelming coffee taste. They are the perfect pick-me-up!
---
Love these chocolates! They're delicious even without the caffeine benefits, and a great alternative to downing a cup of coffee. The caramel flavor is my favorite.
---
---
Received a free product from AWAKE Chocolate
Overall I don't think I would buy these chocolates at the steep price for only 6 pieces. They dark chocolate was really firm too and actually kind of hard to bite. The taste is fine, which is why I didn't rate it worse. But there are plenty of other chocolates out there that could give you a little energy boost without needing to even be marketed a such.
---
What is Thingtesting?
Thingtesting is an unbiased place to research and review internet-born brands — because honest reviews help us all shop better. Learn more.
---
The chocolate itself is pretty decent. if you're buying this for chocolate, it might not be with you expect. However, overall it's pretty good.
---
this was an impulse buy at a candy shop one weekend and i was pleasantly surprised! i def felt more energized and it was a sweet pick me up in the middle of the day. 8.5/10
---
These will always be my caffeinated little buddies! I'm not a huge code or energy drink person and I love that these little bites taste good and provide the little pick me up I'm often needing in a pinch.
Caramel
Dark chocolate bites
Milk chocolate bites
Peanut Butter
---
Randomly saw this at my local supermarket. They only carried the caramel variety. Very cute packaging but don't see why this was placed in the "better for you" section of the candy aisle. It's just a piece of industrial chocolate, not quite bitter to be considered dark, but not sweet enough to be your typical milk chocolate. I'd be curious to try the milk chocolate variety if it ever becomes available in my neck of the woods... But, the caramel kind is not for me.
---
Wonderful lush and creamy chocolate. Love the packaging with individual wrapped pieces for grab and go. Will definitely buy again.
Caramel
Dark chocolate bites
Milk chocolate bites
Peanut Butter
---
Tasty but honestly don't think I felt a massive difference and I'm usually very sensitive to caffeine. On the other hand, could be because I only resorted to buying these at the college coffee shop if I was already pretty sleep deprived.
---
I love it when caramel is a bit runny and leaks out. These delivered on that! They tasted great and the caffeine was just a bonus. They were almost too good where I ate too much, (maybe).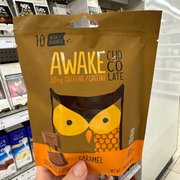 ---