ATELIER SAUCIER
5 • 1 Review
ATELIER SAUCIER designs sustainable and customizable linens using unique fabrics to produce high quality table essentials for all occasions.
ateliersaucier.la
Average rating from 1 user
I have a few sets of linens from Atelier Saucier and absolutely love them. I especially love the linen produce bags - not particularly functional for storing produce, but so pretty and make for fun center pieces on the table.
Feedback
A bit expensive, but worth it for the beautiful quality.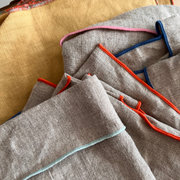 ---