ARMRA
3.24 • 17 Reviews
Armra makes a nutrient-rich colostrum concentrate that protects, restores, and enhances immune health and cellular performance.
tryarmra.com
Average rating from 17 users
Kind of conflicted on what to say about this product. I have been using it for 9 months now and I'm not sure if I really see any health benefits to it yet. I use 4 scoops in a day and instructions don't really suggest how much you should take. When I had tried to reach out to customer service, they said you can drink as much as you like. It is very expensive and I drink the original which is milky for sure. I will look for a cheaper and just as effective colostrum in the future.
---
Caused allergy symptoms and hormone issues. Felt like pms within the first week and it was much too soon for that. Now that I am trying to return unused jar, the website for returns conveniently doesn't work on different devices (and there is a return window). I had read this before buying. Now I know it's true. Start small in case you react also bc you likely won't be able to return.
---
---
First and foremost, yes, this product is expensive, BUT: I take two servings (2g) a day and with the container being 120g, it should last me 2 months. Also, it should be noted that their colostrum comes from grass-fed cows, that already is going to make any supplement like this more expensive at the get-go but since that is something I WANT to support, I would rather pay more knowing that the animals this comes from have better lives than most of the horrid dairy industry. Now, my experience in taking this: I have been taking this for a little over 1 month now, I take it every morning, in my Everyday Dose mushroom coffee and some creamer. This is the first thing I have every day and it's on an empty stomach. I have noticed wayyy more energy than before, I feel more, happy? Optimistic? Mood-balanced? I'm not sure what it is, but as someone with anxiety, depression, and ADHD, it's noticeable. I do notice some improvement in my allergies, which are pet and environmental in nature. And I think my skin is looking really good but I'm not sure yet. I haven't noticed anything about my hair or bloating or anything like that, but I expect to see more effects as I remain consistent with taking this for a longer period of time. Overall, I love it and it has been worth it for me, just in the relief i have experienced from my allergies, even though it isn't 100%. I will continue to take this. Finally, i did want to add that I've been taking the Everyday Dose for almost a year now, so I am confident in what effects come from each product based on when I started them. I do wonder if either of them effects the efficacy of the other.
---
What is Thingtesting?
Thingtesting is an unbiased place to research and review internet-born brands — because honest reviews help us all shop better. Learn more.
---
Before I review the actual product, I want to mention that the marketing really bothers me...they market this as a "holy grail" product. I got ads that mentioned "de-aging" and that it would help with my skin, hair, nails, bloating, wrinkles, immunity, digestion and more. Anytime I see something that is marketed to this degree, I'm skeptical and honestly bothered. I bought this for traveling. I travel all over the world for work and traveler's diarrhea is just a common thing you prepare for. One of the best and most effective products I've taken to help with traveler's diarrhea is Diaresq which is...you guessed it...bovine colostrum! I have taken Diaresq for years, but I liked that Armra had a smaller amount that I could take on a daily basis while I'm traveling. I took it for about a week before my trip, during my trip (3-weeks) and 1 week after the trip. What were some things that I noticed? It's impossible to attribute any of these things to Armra specifically (both the good and the bad). The good was: I didn't get sick the whole trip, I had regular bowel movements right from the get-go (which often doesn't happen), and I guess you could say that I had less bloating than normal. The bad was: I did have an upset stomach multiple times while taking this. Not every time, but every so often. As well as stomach pains. I'm not lactose intolerant, so I'm not sure if it was related to this or not. Challenges in using the product: Two things about using the product itself. The first is that the unflavored still does taste like bovine colostrum- so if you're sensitive to taste/smell, if you take this straight, it will bother you. Second, I did try to mix this into my cold beverages, but 1. it doesn't mix well, it gets clumpy and 2. because it's milky, it gives your beverage a weird frothy texture. Okay if you're drinking an iced latte. Really weird/gross if you're drinking a juice or something like that. All in all, I'm not sure if I'll use this again - perhaps for a future trip, but I doubt I will take this on a daily basis.
---
I took Armra for about 2-3 months, I was feeling good, hair and skin looked good but I didn't particularly associated it with this product. Since it's pretty expensive, I decided not to renew and that's when I realized what colostrum was doing for me. I'm sure results vary from person to person depending how you metabolize ingredients, but in my case, it definitely helps with bloating and hair strength. I just wish it wasn't SO expensive.
---
I finally bought this after seeing ads all the time, mainly because I was curious about the allergy benefits and hair health benefits they tout. I have really bad pine and evergreen allergies and I live in the Pacific Northwest so as you might imagine, I struggle quite a bit 😅. I have noticed a slight improvement in my allergies, they don't seem as bad as usual. I've been using this for about 2 months now but I don't always remember to have it every day, so that could be effecting it. It will be interesting to see if it helps during fire season. They mention improvements to hair in their marketing a lot and I can't say whether or not I'm noticing anything different. For what it's worth, I normally take a hair growth supplement so it will be hard to attribute one specific thing to any improvement. In terms of flavor, I really enjoy the blood orange. I was afraid it would taste like that fake orange Tang from childhood but it definitely has more of a realistic orange taste. I also most recently grabbed the limited edition watermelon flavor and I LOVE it. I blend it with real watermelon and mint and it tastes SO good and refreshing. I didn't have any shipping issues like the reviews before me. In fact, it arrives surprisingly quick without issue. I'm knocking 1 star off for a couple things. First, the price. This product is EXPENSIVE but since my allergies are so bad out here I am willing to give it a proper try (allergy meds make me extremely drowsy). I signed up for the subscription for the very slight discount to try to offset the cost. The other point I wanted to call out is their extreme green-washing marketing. Their most recent email contained a lot of fear-mongering around SPF, alluding that their product could be a suitable alternative to wearing sunscreen which really bothered me and almost had me reconsidering my subscription.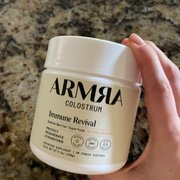 ---
So far I am on this ARMRA regamine. I love the taste, and I can't wait to start seeing the results of this. That was a couple of months ago. Now I can say that ARMRA is spot on when it comes to immune revival. Everyone in my circle has been sick or has caught colds, flu, etc. Not Muah....THANKFULLY I have been strong and resilient. I believe in this product. I treat the powder like gold. I just wish the product was sitting at a better price.
Feedback
Pricey, please do better...
---
They do not deserve even 1 star. They are liars and cheats. Read their other reviews. They do not stand up to their written standards. Stole my payment and did not ship to me. I disputed the charge they now do not ship to me at all. They recharged me and still no product. They still say I have an open ticket. LIARS. DO NOT ORDER FROM THEM. Then they say they're a small company and cannot address your inquiries. But charge you for NOTHING. FRAUDS.
---
Product-wise, the unflavored colustrum packets are easy to use and basically look like powdered milk. There's some clumping when you mix it into liquid, which is frustrating. I have been taking 2 sticks a day for a week, and have seen and felt no difference in my skin, hair, gut, or overall wellness. Maybe it's too soon? Brand-wise, ARMRA makes some BIG claims. And while they seem to be backed up by science, it's not hard to have an official-looking research paper put together that shows your product off (I read the one they link on their homepage). I found myself questioning whether the collection of colostrum could possibly be ethical, even given ARMRA's statements that the company only works with family farms, grass-fed cows, and "overflow" colostrum. There's a lot of greenwashing in the dairy industry, including "family" farms, and the reality is rarely as pretty as it sounds. I just couldn't bring myself to continue after trying my first box.
---
After seeing ARMRA ads on Instagram, I decided to give them a try to improve my overall health. I purchased the blood orange flavor and it tastes great! I pop it into 8oz of cold water every morning and don't have any issues drinking it. I've been on it for about a month now, and I will say the one thing I've noticed the most is that my stomach does seem flatter. Additionally, I haven't been getting allergies as frequently. I think I will keep drinking this to see how my body is going to transform.
---