april
5 • 17 Reviews
april offers a subscription wellness supplement service using refillable and compostable packaging.
itsapril.com
Average rating from 17 users
100%
Recommend to a friend
I have been taking April's Multi-Me vitamins for a little over a month now and have noticed a big increase in my energy levels. Really happy with this product and will continue to purchase this going forward.
---
Really love this product, helping me feel more energetic! Also love the stylish packaging. Using the multi vitamins and glo package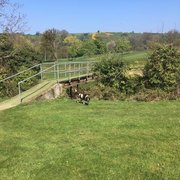 ---
---
I tried the multivitamin (still waiting for a male version, but hey, the female ones work great for me). Instantly fell in love with the brand and communication so had to try it out. Easy to swallow capsules and I must say that I've felt more energized after a couple of weeks. Whether it's related to overall well-being or not it feels great knowing I get the vitamins I need from a vegan and natural source. Thumbs up 👍🏻
Feedback
The scent was more intense than other brands I've tried, but in the end it adds to a natural feeling.
---
What is Thingtesting?
Thingtesting is an unbiased place to research and review internet-born brands — because honest reviews help us all shop better. Learn more.
---
First of all amazing brand design! I tried the club calm and glow service and I recommend it to all my friends.
Feedback
You could have a quiz that tells you which product that fits you the most.
---
As I have only used the product for less than a month it's hard say anything about the actual efficacy of the vitatmins. However, the packaging is AMAZING. Both pretty to look at and actually makes sense from a recycling standpoint. I would also like to point out that the customer journey I've been on so far has been on point. Clear communication delivered in a way that truly represents the brand.
Feedback
Nothing I can think of one month in!
---
I love my new routine with April's supplements! I take multi-me and glow service and I've been feeling great ever since I started ☺️
---
I've been taking Glow Service for over 2 months now and I've had a positive effect on both skin and nails: my skin looks healthier and has more glow, and my nails are stronger than they've been for a long time.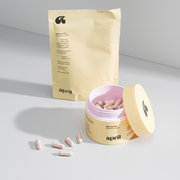 ---
I love this brand so much! The packaging is beautiful and I love how the refills are delivered in packaging that fits through my letterbox, so there is no fuss. I have been taking the glow service supplements, the tablets are easy to take and I feel like I am already seeing results. I will probably end up subscribing to the other two supplements!
---
I've been taking glow service and club calm for about a month now, and I'm impressed to be honest. Usually I forget to take my supplements but for some reason (perhaps the packaging design) that is not the case anymore. So thank u April for my new routine.
---
I love the experience! The packaging is very fun and it feels that you're receiving a gift. I added this to my morning routine so I don't forget to take them! I see that my hair and nails are getting thicker which is amazing after not even a month of taking them.
Feedback
The first package took a bit longer than expected. But that's about it!!
---