Appointed
Appointed offers everyday, elevated paper products designed to spark creativity and help you put your best foot forward.
appointed.co
Average rating from 7 users
100%Recommend to a friend
High quality products that are very well thought out for productivity.
Feedback
The design feels a bit corporate, I just prefer a vibe with more voice.
---
These are hands down my favorite notebooks on the market. I always have these on the ready and gifted them monogrammed for my bridesmaids as part of their gift! I love the texture of the woven covers and the perforated pages of the notebooks. I opt for the lined notebooks, but they also have dotted, grid, and blank ones if that's your preference!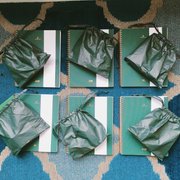 ---
---
I am in love with these products. They're stunning, minimal, expensive-feeling (for a relatively inexpensive price-tag). I found out about the brand from a collab they did with a British influencer I love, and have been hooked since. I typically stick to the notebooks, but they have some incredible accessories as well. High-quality all around!!!
---
What is Thingtesting?
Thingtesting is an unbiased place to research and review internet-born brands — because honest reviews help us all shop better. Learn more.
---
Got the planner from my 2020 Thingtesting Secret Santa ;) and I've enjoyed using it to keep my work organized! The quality of the notebook is wonderful. Paper thickness and smoothness is exactly what I like.
Feedback
An extra "notes" section in the annual planner would be helpful.
---
Design, color ways, quality, and overall brand is impeccable. I use the grid notebooks for my daily tasks and ideas. Everything I do is via digital and these notebooks make me feel connected to my work. I'm really impressed with their packaging - it's minimal but still really beautiful.
Feedback
There website is not user-friendly, but I believe that they've made some recent changes. They are expensive, but I buy several and they do offer thoughtful discounts that feel like they're hitting you at the right time.
---
Luxury writing experience! The Perforated sheets are an added plus if you are someone like me that likes to rip out the pages when the words don't seem to flow. You are given the option of graph, blank, or lined paper so there really is something for every kind of brain. The hard cover is great for throwing into a work bag and keeps your precious pages safe.
Feedback
The price point is a little high, but you get what you pay for :-)
---
I loved the make and quality of this notebook - it laid flat and was beautiful to write in. However, I use a lot of digital tools as well and the weekly layouts weren't perfect for what I needed my planner for so there was a lot of empty space in certain sections. Be sure to pick the layout that fits your productivity!
---