Apottech CBD
5 • 2 Reviews
Apottech sells a range of CBD tinctures to support mental and physical health.
What is Thingtesting?
Thingtesting is an unbiased place to research and review internet-born brands — because honest reviews help us all shop better. Learn more.
Average rating from 2 users
Apottech CBD Reviews
🤝
Friends with Apottech CBD
Experience
As someone who had not tried any CBD or any related product before, I was surprised and amazed how fast Apottech tinctures worked. The ones I use the most are Sleep and Focus. The sleep tincture helps me fall asleep extremely fast and sleep through the night without waking up. The focus tincture, as someone with ADHD and procrastination problems, helps me stay on task on what I need to do without distractions. Another tincture that I use every so often as well is Calm, being an extremely anxious person helps me a lot.
Lovely customer support
High quality
Innovative product
Worth the money 💸
Fun unboxing 📦
Works really well
Amazing website
Eco-friendly packaging
Sustainable products
Love the brand's mission 💕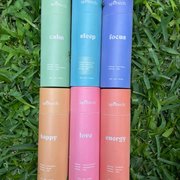 Experience
Finally found a CBD product that actually helps me fall asleep. I've been taking Apottech's sleep tincture for a couple of weeks now and it has truly made a difference. I am able to have restful nights at last! I take one dropper 30 minutes before bedtime and usually fall asleep real quick.
Lovely customer support
Good for gifts 🎁
High quality
Innovative product
Cool look & feel
Worth the money 💸
Easy subscription management 🔁
Fun unboxing 📦
Travel friendly ✈️
Works really well
Amazing website
Love the brand's mission 💕