Average rating from 13 users
83%Recommend to a friend
I haven't tried their spirits yet but I was gifted an AMASS Mateo candle and it's amazing. It's a heavy glass jar with the best smelling, luxurious candle. The scent of the Mateo is bergamot, olive leaf, and lavender and it's such a delicious mix that leaves the room smelling wonderfully.
---
I love the vodka a lot more than the non-alcoholic option. The non-alcoholic one is very herbal, so it can be a bit of challenge to mix mocktails. Still great and love the packaging. I will continue to purchase.
---
---
I had this at Thanksgiving 2022 with my best friends that have kids in NYC. Everyone was drinking their drinks, but the one dad had AMASS on deck and I could not believe how tasty it was. Would drink again. Going to bring it to the next function.
Feedback
I loved it. Would try other flavors, make contrails etc.
---
What is Thingtesting?
Thingtesting is an unbiased place to research and review internet-born brands — because honest reviews help us all shop better. Learn more.
---
It is pretty good in the scheme of NA spirit options but not as good as others. The packaging is gorgeous and I'd love it sitting out on my counter, but the flavor wasn't quite for me. I think gin lovers would like it more.
---
Everything AMASS makes is beautiful and high quality. With Morgan, their genius female Chief Product Officer and Distiller, at the helm, the spirit flavors are interesting and the design is spot-on.
---
I tried the Amass Riverine first at a bar called Genever in the Hi-Fi neighborhood of LA. It was a good alternative to gin and I love the taste. It's so simple to mix with drinks! It's great with a tonic on the rocks or even with some lime juice + ginger beer to mix it up.
Feedback
More recipes for inspiration on what to mix Riverine with!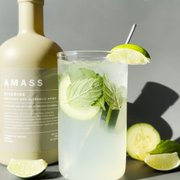 ---
I have only tried one Amass flavor to date (Riverine) and I am obsessed. I haven't drank alcohol in nearly a year, and I've searched high and low for non-alcoholic beverage options that make me feel a part of the party. This is one of my favorites. It reminds me of the best parts of drinking gin, (the bitterness and depth of flavor), so easily mixes with any sparkling water or other beverage and lemon or lime, and is stunning with the rest of my non-alcoholic bottles.
Feedback
Not be out of stock!
---
I'm trying to cut down on my weeknight alcohol consumption so was excited to try their Riverine flavor. Really wanted to like it but it was just too earthy for me (and literally I eat kale daily). I checked the label and think it might be the coriander throwing me off, not sure.
Feedback
I'm glad the world is trending in this way but there are a few other brands out there that I'd recommend with less botanic more citrus flavors.
---
I've tested the dry gin (very nice) and hand soap (also great). The gin makes a great g&t - nice blend of botanicals that feels out of the ordinary. And the hand soaps are really nice!
Feedback
This is a nitpick, but I've found that the pump on the hand soaps tends to leak so it drips down the side of the bottle.
---
Amass is a mover and shaker in the premium spirits market. They stand out to me for their use of unorthododox botanicals like marigold, eucalyptus, and peach! Bonus - they make the best smelling hand sanitizer, hands down!
---