Average rating from 1 user
Each product is innovative and great for those who just don't have the energy and only want to use 1 or a couple products in their routine. They're all backed with amazing ingredients and you can tell that they really think about all their formulas. All the packing is beautiful as well so it's really hard not to fall in love with the brand. Brand is luxury pricing so I usually wait for Black Friday to get some of their best deals.
Feedback
Innovative & exciting products, keep doing what you're doing!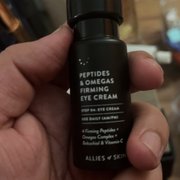 ---