Average rating from 3 users
Love the concept- when you just want one glass, why open a bottle? Love the selection of local wineries, it's very sweet that they included a card with all the wine makers' contact info, so if you like the wine, you could write a message to thank them. Like the packaging too, sustainable, great quality, and very convenient. I really like all 5 types of wine they have currently, will definitely order again. I'm also looking forward to what other wine they will choose in the future.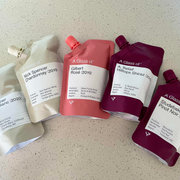 ---
Bought two packs for travelling / quarantine which was very convenient and practical. The wines were fine, but the quantity and convenience was a differentiator.
Feedback
Expand the tiers of wines available and potentially upgrade the look of the packaging.
---
Great for tasting a variety of wines (instead of opening five bottles of wine). Great for drinking this mid-week (one glass is enough for me) ... I also love the curated element.
Feedback
Keen for the next release!
---