I've been testing SpoiledChild's controversial liquid collagen product, here are my thoughts
The following review reflects the independent, honest experience of the Contributing Supertester. Thingtesting does not cherrypick, edit, or influence reviews and uses no affiliate links.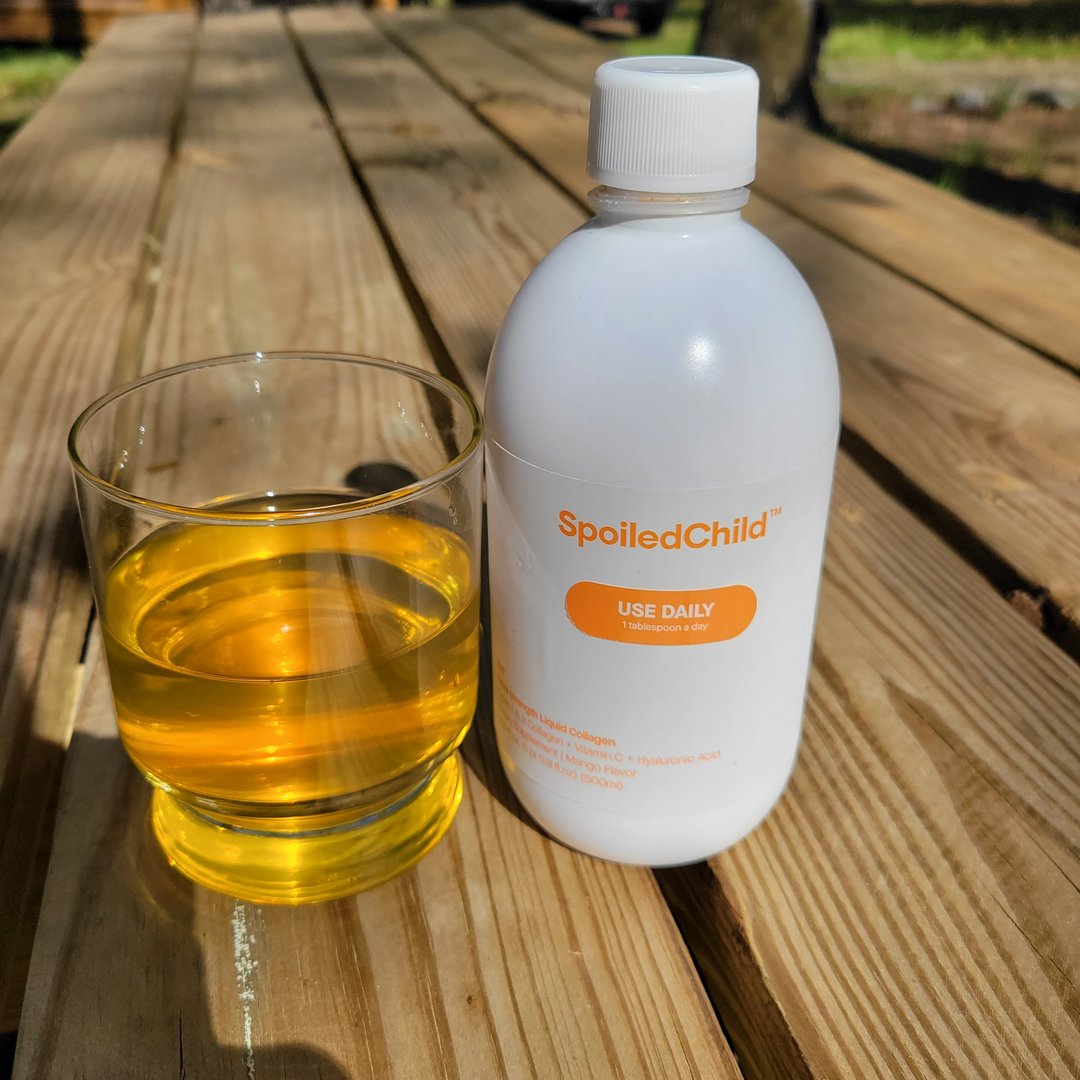 Overall rating out of 5:
4
How much does it cost?
$88.20
What did you buy?
E27 Extra Strength Liquid Collagen - 2 bottles
Would you recommend this brand to a friend, yes or no? Why?
Yes. It tastes great and is easy to use. (bonus points for looking cool!)
When did you purchase this product?
December 28th, 2022
Personal history with or reason for purchasing the product?
I'm always on the hunt for great new foods and skincare, and this is essentially a perfect overlap! As I'm starting to move past my early 30s, I want to make sure that I'm taking good care of my body, so collagen was a supplement that I knew I should be incorporating to keep my hair, nails, skin, and joints looking and feeling great.
A lot of collagen has reviews that complain about the taste (I'm a baker, so I know the taste/smell of plain gelatin, and it's…a lot) and I just really didn't want to deal with that, so I went with the SpoiledChild liquid and I'm *so* glad it did. It's really delicious!
Any affiliation with this brand?
None.
Share your experience. What did you think?
The liquid really does taste great mixed with a little cold water, it's pretty much replaced my morning OJ.
I have been taking 1 tablespoon per day, 5 days a week for about 3.5 months now. As with any dietary supplement, it takes some time, and the results can be subtle (no dramatic before and after) if you're starting out from a pretty good place.
I'm really starting collagen as a preventative measure since my hair and skin are in pretty good shape. After taking it for a while, I have noticed some reduced peeling on my nail tips, so I can tell the collagen is doing something.
Would you buy it again given what you know now?
Maybe - it's pretty expensive. The taste exceeded my expectations, the results met my expectations.
I'm also not the biggest fan of the SpoiledChild marketing strategy. I get a *lot* of emails.
Share your feedback. What would you change or what could use improvement?
Remove the sucralose, quit it with the "free gift" offers (I don't want your brush or your lip balm, seriously!), and get the price down a bit.
I didn't buy the collagen with a subscription (though I do think there are an unnecessary number of prompts at checkout to do so) so I can't speak to any potential billing issues or errors that other have experienced. I placed my order, received it in a timely manner (order placed December 28th and received January 5th) and did not get any recurring or unexpected charges.
Is this product similar to anything you've bought before?
I have used collagen powders in the past, and while they are fine in smoothies they can be a bit challenging taste-wise in a less robust beverage. SpoiledChild genuinely tastes great in just a few ounces of cold water.
The effects of collagen are subtle (like many preventative supplements!), so its difficult to say if liquid collagen is more or less effective long term than powders, but I cant say that I noticed much of a difference in effect (hair, skin, nails, joints) between less expensive powder and SpoiledChild. Again, I am starting from a pretty good place so if you have a specific concern that you are hoping to address with a collagen supplement, you may see a more noticeable benefit.
Do the quality of the ingredients justify a premium price?
I love that this product contains both collagen Types I and III, which from what I have read covers gut and skin health primarily. Type II usually covers joint health, but it seems like it's not recommended to take Type II at the same time as I or III, so I understand why it's not part of the SpoiledChild product, as they are primarily a skincare company.
The addition of hyaluronic acid is awesome, as that's a supplement that can be pretty expensive by itself, and is supposedly a fantastic supplement for overall skin hydration. I love hyaluronic acid in my skincare, so taking it combined with something else appeals to the lazy girl in me.
I'm not the biggest fan of the inclusion of sucralose, which can be a somewhat controversial opinion. Yes, it's generally recognized as safe by the FDA but recent studies have shown that it can lead to inflammation, increased appetite, and some studies have shown that sucralose can change your gut microbiome by lowering the number of good bacteria by half. (why does it need to be in there?! It's the last ingredient!)
Does SpoiledChild's collagen work? Is it worth it?
SpoiledChild collagen is more expensive, but potentially more convenient and certainly more enjoyable than other powdered collagen products. I would repurchase, especially with a sale or coupon.