Why are so many brands selling fancy socks online?
Socks are no longer an afterthought, with a crop of brands selling pairs that they say will fit better and last longer than any you've tried on before.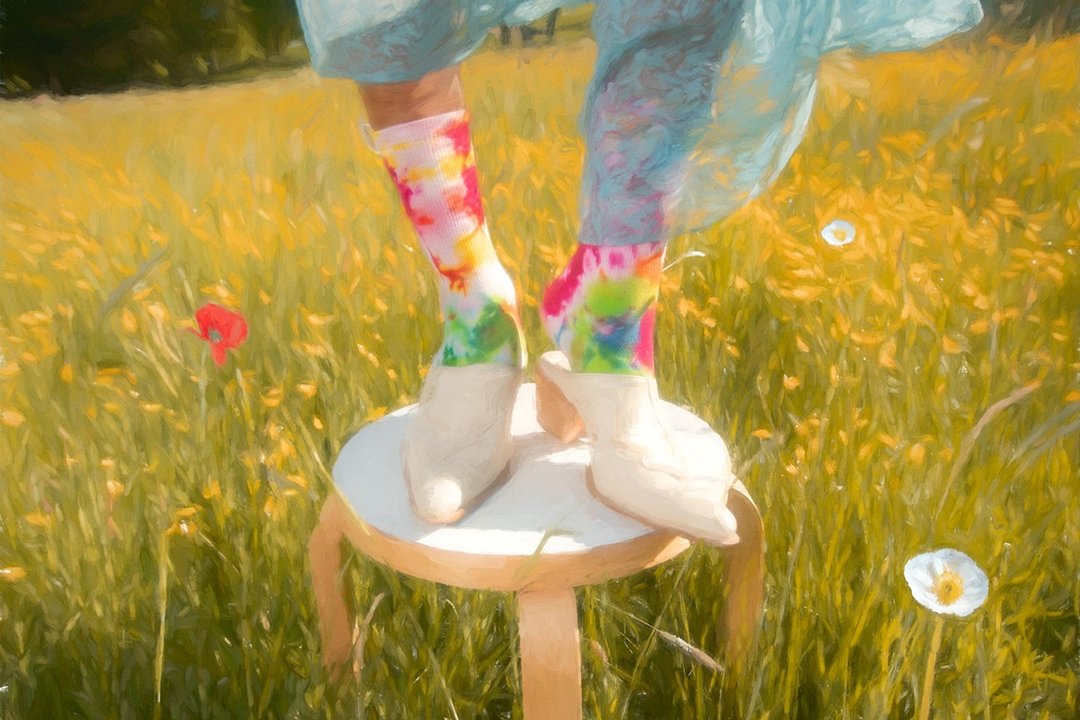 It's the details that make an outfit: a statement necklace, a poppy pocket square, a shirt that's left half tucked in, half out.
And judging by the number of brands that have popped up in recent years selling statement socks — this often overlooked piece of footwear is now being considered a sartorial superhero, too.
"The [sock] is something that's not highly regarded as [part of] an outfit," says Sean Fry, the cofounder of sock brand Socksss, founded in 2018. "We're trying to change that, and we're gaining a lot of momentum."
The brand sells socks that are nothing like the basic pairs you might have stuffed in your underwear drawer. There are no plain black trainer socks here — instead, these pairs come in bright primary colors, rainbow gradients or fluffy terry knits. They are also designed to last longer than your average sock might, with each pair featuring a reinforced heel and seam-free toe.
It is one of several digital-native brands selling socks online. Bombas, which launched in 2013, reportedly made over $250 million in sales in 2021, and the brand has also expanded its product range to include underwear and basics like t-shirts. Last year, Doublesoul launched with its range of unisex socks that come in four sizes and are made with recycled materials. Four-year-old brand Comme Si takes the idea of a luxury sock to the next level — made from materials like cashmere, silk and merino, each sock features a fabric loop sewn onto the cuff with the brand's name, like you might find on an expensive handbag.
Fancy socks come at a higher price, of course. Comme Si's cheapest pairs, made from Egyptian cotton, cost $30 a pair, while a mongolian cashmere set will set you back $80. Socksss socks start at around $21.
Fry says that the prices reflect the fact these socks are more complex to make and use higher-quality materials. Fry says that Socksss designs combine aspects of sports socks and compression socks in order to make sure they fit properly and don't slip around. This is more tricky for manufacturers to do, which increases the cost. Certain materials, too, will naturally be more expensive than others.
"If you're paying under £10 for a pair of socks somebody's getting short [changed] in that situation, I'm telling you," says Fry. "Just from quality of the product to the manufacturing to the logistics and then actually getting the product out there to the consumer, there's a big question mark."
Fry says that in 2022, Socksss doubled its revenues, bringing in around €600,000 ($652,000) solely from selling socks. At present, the majority of the brand's sales are made via wholesale channels, but the plan is to bring the 10% of sales that currently come directly from its website up to 40% in the near future.
The problem is, socks aren't the easiest thing to market online: "They're hard to merchandise," says Fry. It can be tricky to take photos that get across a sock's starring role in an outfit, and which have "that visual impact compared to wearing a blazer or a pair of denim," he says. "It's easier for people to style that out in their own photoshoot at home, but with socks you need to put more thought into it."
As the brand has been puzzling this problem out, it has held off running any influencer marketing campaigns. In November, Socksss began running digital ads through Meta and Google for the first time. Now that it has advertising artwork that does its products justice, it's hoping it can spread the word online at a much greater pace.